The artists bringing their candid vision to queer photography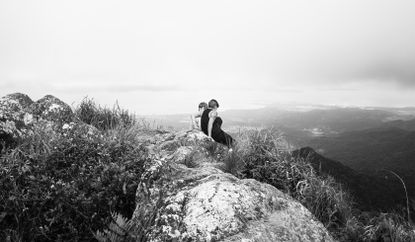 (Image credit: Vanessa Rondón)
Tom Jackson, a fifty-something dump-truck driver and self-styled 'redneck' living in an insalubrious basement studio, made Netflix viewers everywhere weep when he was made over and reunited with his lost love by Queer Eye's Fab Five. When Monica Beverly Hillz came out as transgender on RuPaul's Drag Race, a first for a competitor, the tears flowed.

The queer community have made other ways of seeing sexuality, gender and bodies possible, now, perhaps partly down to the success of shows like RuPaul and Queer Eye, those non-binary ways of seeing are sashaying their way into the mainstream conscience.

Yet it wasn't so long ago that the streets of New York were raging with the energy of the Stonewall Riots, and it was only in July 2011 that the state officiated its first same-sex marriage. It often takes longer to change attitudes than to change laws – which is where art comes in.
At New York's Leslie-Lohman Museum of Gay and Lesbian Art, 'Daybreak: New Affirmations in Queer Photography' (running through to 2 September) presents 12 visions of the queer community in the city today: from stage performances to private bedrooms, portraits of loved ones to perspectives on the heteronormative canons in art history.
Men are also affected by the cis-male gaze – as Ryan James Caruthers, one of the youngest photographers in the exhibition, reveals in works from his breakthrough series of intimate self-portraits, Tryouts, shot while he was still an undergraduate at Parsons. Exploring often conflicted ideals about masculinity, the athletic body, and queerness, as he came to terms with his own sexuality and body, Caruthers questions what it means to be a man – and how men are oppressed by those standards.
The corrosive nature of the male gaze is echoed in Ryan Duffin's appropriated images of ideals of machismo torn from 1980's self-help guide Working Out, juxtaposed with stereotypes of masculine success, from luxury homes to ostentatious cars. Equally personal is Chilean-born, Brooklyn-based Mikaela Lungulov-Klotz's emotive documentation of her twin sister's transition, images that we are still not used to seeing in public spaces.
As Jess Richmond suggests in her photographs of twisted limbs and contorted torsos – queer, gay, straight, non-cis, transgender – bodies are bodies. Bodies experience pain, pleasure, love. Richmond prints self-portraits to life-size, cuts them out, and photographs them again: the process of this shifting self image, transferred from one space to another, is a comment on the fluidity of our identity.
The world at large may not yet be ready to accept what these artists show us, but the exhibition creates a safe and inclusive environment that imagines a not-too-distant future for all queer lives.
INFORMATION
'Daybreak: New Affirmations in Queer Photography' is on view until 2 September. For more information, visit the Leslie-Lohman Museum of Gay and Lesbian Art website
ADDRESS
Leslie-Lohman Museum of Gay and Lesbian Art
26 Wooster Street
New York
Receive our daily digest of inspiration, escapism and design stories from around the world direct to your inbox
Charlotte Jansen is a journalist and the author of two books on photography, Girl on Girl (2017) and Photography Now (2021). She is commissioning editor at Elephant magazine and has written on contemporary art and culture for The Guardian, the Financial Times, ELLE, the British Journal of Photography, Frieze and Artsy. Jansen is also presenter of Dior Talks podcast series, The Female Gaze.