Dana Lixenberg: 'The Mayor' photography project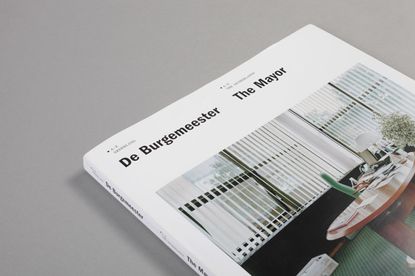 (Image credit: press)
'I'm often drawn to the plain and boring,' says Dana Lixenberg (opens in new tab), referring to the seemingly mundane subject matter on which she has recently been focusing her gaze. The Dutch photographer, who has spent most of her adult life working in New York, is best known for her portraits of celebrities, but for her latest project 'The Mayor' (De Burgemeester in Dutch) she returned home to the Netherlands and travelled around meeting and photographing the mayors of 22 different municipalities.
The source material may be dry but the photographs - commissioned as part of Document Nederland, a series produced annually by the Rijksmuseum (opens in new tab) and the daily newspaper NRC Handelsblad (opens in new tab) - are undeniably compelling, as seen from her new book and current exhibition at the Amsterdam Museum.
When she was first approached to capture this portrait of Dutch officialdom, Lixenberg, who claims her 20-year exile in New York shooting for the likes of Time (opens in new tab), Newsweek (opens in new tab),
The New Yorker (opens in new tab) and Wallpaper* gives her 'an outsider perspective', was mainly intrigued about the world these public servants inhabit - the rooms where they hold their meetings, the views from their office windows, the ephemera they keep on their desks.
This fascination with the almost banal details of life was evident in Lixenberg's last photographic project. In March 2011 photography museum FOAM (opens in new tab) hosted her exhibition Set Amsterdam, a collection of images that presented an unconventional glimpse of the city of her birth - a portrait, if you like, of the forgotten bits. Previously, Lixenberg's personal projects tended to focus on marginalised people, such as the homeless in Jeffersonville, Indiana, the inhabitants of an LA housing project and the threatened Inupiaq community in Alaska. But in Set Amsterdam, human beings are conspicuous by their absence.
With its stark, unflinching aesthetic, The Mayor undoubtedly channels the urge to reveal something of life beneath the veneer by focusing on what Lixenberg calls 'the unspectacular'. Featuring a selection of 55 photographs (which are also included in the 160-page book) it presents a cross-section of Dutch local government, from the grand urban centres of Amsterdam and Rotterdam to smaller rural municipalities. As with Set Amsterdam, Lixenberg often fixes on things that appear to be dreary or even ugly.
'I feel like I'm surrounded by so much imagery,' Lixenberg explains. 'I live in a hectic, intense city. So in my work I like to strip everything down and zoom in, really focus on what I'm looking at. I find it spectacular when something is on the verge of boring, when nothing much is happening but there's still a lot to see. I use a large format 4x5 camera so I can't run around after people shooting quickly. Instead I create these fixed, very still tableaux that capture even the tiniest detail.'
The Mayor's subject matter ranges from the unveiling of a new pier to the various officials' desks with their thermos flasks and tea bags and individual servings of milk and sugar. 'I spent one full day with each mayor,' says Lixenberg. 'And it was very important to me that it was just a regular day. I didn't want them in their ceremonial chains, I wanted them doing normal, everyday things. I approach photographing celebrities in the same way. I'm never interested in someone's "image". I like to create an intimate quiet moment.'
For the most part, the photographs have a sober, dry quality - but every so often the extreme banality does tip them over into the realms of the comical. One of the images, depicting a particularly joyless-looking gathering, bears the quasi-Soviet title: 'Barbecue to celebrate the renovation of the canteen for the municipal outdoor services department'. Lixenberg acknowledges that people might find this funny but insists: 'I tried not to be cynical. I actually find that image very moving. There are certain photographers like Martin Parr who are known for their playfulness but I think my approach is quite serious.' But, says the artist with a smile: 'I do like it when things are on the edge of serious and surreal.'
ADDRESS
Amsterdam Museum
Sint Luciënsteeg 27
Kalverstraat 92