D&AD Awards 2009: Faces of Evil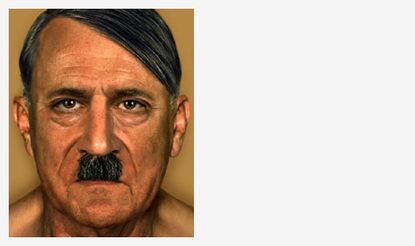 (Image credit: TBC)
Last Thursday saw the annual D&AD awards take place at the Roundhouse in Camden, North London, and, with Tony Chambers our Editor-in-Chief on the judging panel, we went along to celebrate the cream of this year's creative crop. Whilst the coveted black and yellow pencils elude even some of the brightest industry stars, D&AD's exacting standards still managed to bring this year's design world best into razor-sharp focus.
One of the more unusual recipients of a yellow pencil, and our undisputed favourite, came in the form of the Faces of Evil project, by Hans Weishäupl - Director of Das Comitee communication agency in Hamburg. Consisting of 13 (much) larger-than-life-size digital exposures, Weishäupl has produced uncanny portraits of the most infamous faces in modern history.
Watch how the Faces of Evil come together
Spending countless hours in front of Photoshop, Weishäupl painstakingly stitches together anonymous faces of people from the countries where the dictators once ruled. After much attention to every feature, hair, wrinkle and pore, the faces eventually morp into portraits of Mugabe, Pinochet, Hitler, Mao and more.
See more of Weishäupl's Faces of Evil (opens in new tab)
Poking a wry finger into the 'axis of evil's' ever-slowing spokes, Weishäupl's jarring pastiches raise the controversial question of how society can allow evil to exist, rather than laying the blame entirely at the door of the wrinkled old man he sets before us.
Sitting alongside some slightly lighter offerings - including Mother's Snoop Dogg advert for Orange, and DDB's well dressed Wallace and Grommit campaign for Harvey Nichols - Weishäupl's award winning entry is a pertinent reminder that there's maybe a little evil lurking within us all.
Click here for a full list of the winners at the 2009 D&AD Awards. (opens in new tab)
ADDRESS
Das Comitee communication agency
Hohe Bleichen 20
20354 Hamburg
Germany
VIEW GOOGLE MAPS (opens in new tab)