Alive and kicking: 'Conceptual Art in Britain 1964–1979' at Tate Britain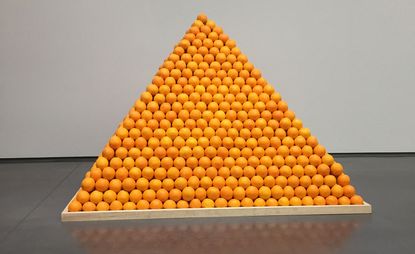 (Image credit: Roelof Louw. Courtesy the artist and Aspen Art Museum)
Conceptual art is still alive and well, and an important part of contemporary art. But it really is no longer acceptable to use the terms 'conceptual' and 'contemporary' interchangeably, as a new show at Tate Britain demonstrates.

Though featuring some of the earliest examples of British conceptual art, the show's dates, 1964–1979, do not span a meaningful period in art history at all. Rather they cover a specific era in British social and political history: the pre-Thatcher Labour government of 1964–1979. The Tate's incoming director Alex Farquharson calls the show 'the ground zero' of British conceptual art. It helpfully pinpoints where British conceptualism was born (art schools and a handful of London galleries), what artists were reacting against (broadly speaking, modernism), the ideology behind conceptualism and how it sowed the seeds for something so much bigger.

It's not just the yellowing type-written archive material and David Tremlett's sound map of Britain, a sculpture featuring 81 cassette tapes, that makes the art here feel dated. Many of the ideas are just so last century. Take Bruce McLean's Pose Work for Plinths, in which the handsome young artist is seen draping himself ridiculously like a Charlie Chaplin Henry Moore over sculpture plinths. It's 'an ironic reference to Caro's rejection of the plinth', the blurb informs us. Remember that word, ironic? Remember a time when it was acceptable for museums to write mind-bending artwork blurbs like, 'Identifying art with disavowal creates an artwork that cancels itself'? This show is full of nostalgia for those days.

It was the era when artists wanted us to 'read' art, rather than look at it. And for that reason the show is drab, colourless, looks more like an archive than a gallery; there are 270 archival objects to 70 artworks. But it's fun nonetheless. Think of the thrills artists had executing work like Hamish Fulton's Hitchhiking Times from London to Andorra and from Andorra to London, 1967, and Michael Craig Martin's glass of water entitled An Oak Tree, from 1973.

It's a must-see; wear black clothes and an ironic smile, and take it all half-seriously.
INFORMATION
'Conceptual Art in Britain 1964–1979' is on view until 29 August. For more information, visit Tate Britain's website (opens in new tab)
ADDRESS
Tate Britain
Millbank
London, SW1P 4RG
VIEW GOOGLE MAPS (opens in new tab)