Collecting memories: Shinro Ohtake debuts his first UK solo multimedia show at Parasol Unit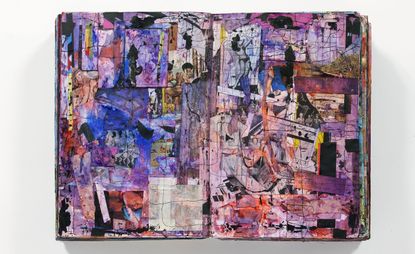 (Image credit: Courtesy of the artist and Take Ninagawa, Tokyo)
The first UK solo show of the Japanese multimedia artist Shinro Ohtake opened this weekend at London's Parasol Unit Foundation for Contemporary Art (opens in new tab). It's been a long time coming.

Ohtake made a trip here in 1977 at the age of 22, already a precocious talent and a Pop Art aficionado, as much as that was possible in mid-1970s Japan. Andy Warhol's first show in Japan, Ohtake tells me, was in 1974 in a Tokyo department store, then the chief showcase for contemporary art in the country. And if the UK trip was partly accidental – Ohtake admits that while most of his peers, Hiroshi Sugimoto (opens in new tab) among them, were heading to the fun and sun of America's West Coast, his travel agent suggested the grey drear of 1970s Britain would be a cheaper option – it was a happy accident.

On the trip, Ohtake made a pilgrimage to Bradford to visit the parents of David Hockney (opens in new tab), who were so charmed they put up the artist for the night. (Hockney wasn't there at the time, but he wrote the preface to Ohtake's first Tokyo solo show in 1982.) Ohtake also soaked up the energy of the punk and new wave scenes, listening to Elvis Costello, he says, on a cheap radio.

More importantly he began his first scrapbook, filling it with his own sketches and photographs but also bus tickets and torn scraps of packaging, archaeology of another consumer culture. And while he has worked in a variety of media since – including video, art books, large-scale sculpture and experimental music with his band Juke/19 – these scrapbooks have become the creative focal point of his art, a true north while he charges off into new territories and media.

Ohtake had been making collages since he was a kid, and in the scrapbooks and his larger works he approaches the art of the collage with a ferocious energy, always using found objects, photographs and bits of old paper. (He still uses scraps of used envelopes in his large collages; he likes that they have already travelled, already have memories.)

The scrapbooks, sometimes stretching to 700 glue-encrusted pages, are shown as sculptural objects as much as artifacts (an extensive collection was shown at last year's Venice Biennale). Ohtake's art is about what memories are made of: how we assemble ragged-edged recollections and visual queues, gather evidence to prove we were somewhere and were moved or at least enthused.

In 2010, he completed a kind of functioning architectural scrapbook, the Naoshima bathhouse. Built out of patterned Indonesian tiles with a tree house on the roof, it is decorated with shunga erotic prints, stills from 1960s porn movies, vintage Thai record sleeves and a life-sized sculpture of an elephant. He says he would also like to open a bar, the ideal repository of memories, given how many we leave behind in such places.

Like Hockney, Ohtake has taken to sketching on an iPad but his art is determinedly analogue, built on sense memories. An avid record collector, he could, he says, distinguish between American and British vinyl by the smell. Indeed this is what he most laments about the digital disintegration of pop-cultural artifacts: their deoderisation.

The Ohtake show includes recent and new works as well as film pieces and is part of the Parasol Unit's 10th-anniversary programme.
ADDRESS
Parasol Unit Foundation for Contemporary Art (opens in new tab)
14 Wharf Road
London
VIEW GOOGLE MAPS (opens in new tab)