Limited-edition Hermès Editeur scarves by Hiroshi Sugimoto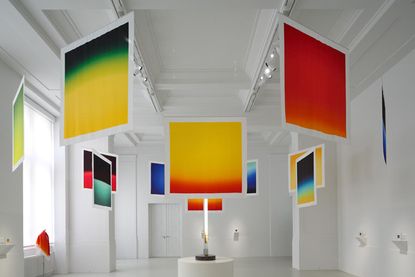 (Image credit: Tadzio)
In our July W*160 issue we pay a visit to the Tokyo studio of Japanese granddaddy of art photography, Hiroshi Sugimoto. When we visited, Sugimoto was busy preparing for the presentation of his collaboration with Hermès at this year's Art Basel (opens in new tab)in the city's Museum der Kulturen (opens in new tab).

For 10 years, Sugimoto has used a giant prism to create a remarkable chromatic display which he has captured on Polaroid (explained in far more detail in this month's issue of course). In 2010, Hermès' Pierre-Alexis Dumas visited Sugimito in his studio and decided that these Polaroids were the perfect base-matter for the third edition of its Hermès Editeur series of artist collaborations.

Hermès has created - using a new inkjet printing method - 20 different scarf designs in editions of just seven. Dumas, Sugimoto, and his prism were all in Basel to see the scarves hung to dramatic effect. If this was a test, the scarves passed with flying colours.

The show was also the first chance for the 19th century museum to show itself off to the annual wave of artworld insiders after two-years of reconstruction, refurbishment and expansion overseen by local heroes Herzog & de Meuron (opens in new tab). As well as beautifully reworked internals, the museum now boasts a dramatic new folded roof of shimmering ceramic tiles.