'Celebrity' exhibition by Elmgreen & Dragset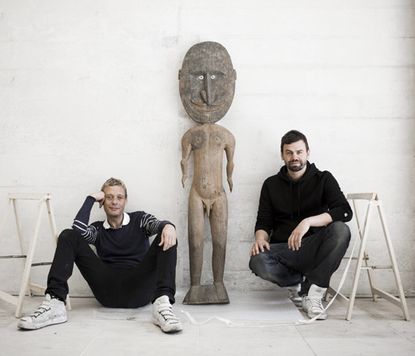 (Image credit: Press)
Unlike the rest of us who probably find the tidal wave of celebrity culture a little overwhelming, Elmgreen & Dragset have embraced it head on to produce a solo exhibition entirely addressing the phenomena.
Taking place at ZKM Museum of Contemporary Art, in the German city of Karlsruhe, 'Celebrity - The One & The Many' is an artificial-reality exhibition comprising two huge, staged installations custom-built to fit into the museum's space.
The first installation, a four-storey-high concrete slab, is a behemoth of a building that cannot be entered, but can give the viewer a preview of played-out scenarios through the various viewing panel galleries of the atria. Each scenario within the block is different, but the one common factor between them is that they all feature people desperate for fame.
Known for the way in which they create spectacular large-scale installations as a means for commentary, Elmgreen & Dragset use their work to call into question society's behavioural patterns; in the case of the concrete slab and the world within it, the recent spate of fame-hungry youths willing to gain coverage through any means possible.
Also touched on is the idea of the 'celebrity' as an icon - a status which it seems is getting easier to enhance (or tarnish) by mass-communicated distortions, rumours, gossip and half-truths. In a separate area, the second installation shows an empty ballroom bordering onto another room, where a VIP party is taking place behind closed doors. Encased completely by frosted-glass door panes, the VIPs and their party are kept away from exhibition visitors, who can only helplessly eavesdrop on dregs of gossip and noise from the party inside.
ADDRESS
ZKM | Museum of Contemporary Art

Lorenzstrasse 19

76135 Karlsruhe

Germany
Receive our daily digest of inspiration, escapism and design stories from around the world direct to your inbox