Bjarne Melgaard sets up shop in New York with a dystopian department store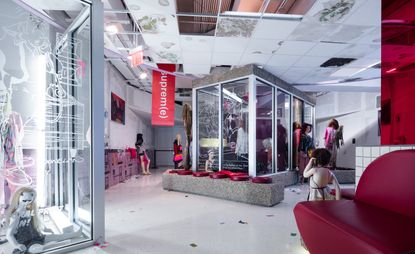 (Image credit: Andre Herrero)
In tandem with New York's autumn/winter 2017 fashion week, Norwegian experimental artist Bjarne Melgaard launched the latest iteraton of his ongoing project, The Casual Pleasure of Disappointment, by giving away his entire wardrobe of designer clothing at Red Bull Arts New York.

'For Melgaard, "the purge" is a cathartic performance in which he disposes himself of material belongings while activating the exhibition space via public retail therapy and mass chaos,' explains creative director Babak Radboy. The two met working on Red Bull's 'DISOWN' show, which disseminated the distinction between fashion and fine art—an appropriate primer for this project.
The Casual Pleasure of Disappointment transforms the gallery into a 'multilevel psycho-pathological department store' with a series of gritty, grotesque mannequins made with art/fashion stylist Avena Gallagher. 'The architectural bones of our unusual space became a real boon, lending themselves quite well to this derelict department store vibe. The fact that Red Bull Arts used to be a Barney's Co-Op was not lost on Babak and Bjarne as they were conceptualising the installation,' says curator Max Wolf.

In addition to the programming at Red Bull Arts, Gavin Brown's Enterprise serves as a satellite jewellery department, selling pieces made by Melgaard with jeweller Bjørg Nordli-Mathisen (BJØRG), which was debuted worn by a dozen live miniature piglets. 'We are interested in how self-presentation (or self-delusion), romance, finance, lust, greed and accumulation intersect in human relationships. Jewellery is very loaded when it comes to that — it's a very expensive symbol of love or commitment or desire,' Radboy says.
The provocative installations relay Melgaard's attempt to confront the endless consumerism and pointlessness of fashion. As an antidote, he created capsule collections of sweats and track jackets, black t-shirts and bomber jackets, and orange militant pieces (a reference to the queer Bash Back movement in the early 2000s) for the real communities living and interacting on the street.

'The entire presentation is an assault on the senses,' says Wolf. 'From the Melgaard capsule collections to Bjarne's militia of modified mannequins that haunt the space like these frozen bargain basement spectres from the past.' In addition, the exhibition will adopt a full range of commercial marketing strategies, including fashion editorials, look books, brand identities and a magazine-exhibition catalogue.
INFORMATION
The Casual Pleasure of Disappointment is on view until 9 April. For more information, visit the Red Bull Arts New York website (opens in new tab)
ADDRESS
Red Bull Arts New York
220 West 18th Street
New York, NY 10011
VIEW GOOGLE MAPS (opens in new tab)