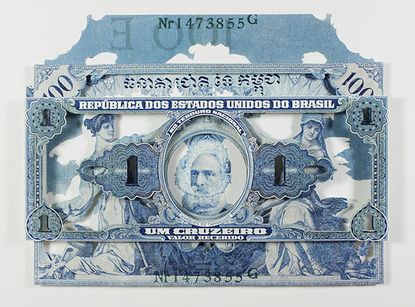 (Image credit: TBC)
This year marked the 20th year of Buenos Aires' ArteBA, charmingly pronounced 'art-e-ba', South America's largest art fair. The five-day event is known for drawing quite a crowd and this year's long entry lines was no surprise for the local industry circles. Porteños are generally known for their keen interest in art and Argentina's most ardent collectors are famous for their incredible passion and desire to build personal relationships with artists and gallerists - a hyper-personal approach that only happens in a smaller market like Argentina.
But while ArteBA has become a serious regional fair of particular local importance, Porteño attendees are always eager for more. As a result the ArteBA team tapped self-described art projects producer Abaseh Mirvali, the former executive director of Mexico's Jumex Foundation and Collection to curate a special section of the show intended to help broaden it's reach.
Mirvali assembled a group of major international galleries for the section, called U-Turn - which turned out to be its hands-down highlight. With the help of sponsor Mercedes Benz, and generous local patrons and personal friends too many to name, Mirvali realized her vision, which she says was broadly based on the concept of 'built structures and modern architecture'. She curated U-Turn down to the individual pieces of art, and her clean, sophisticated sensibility and modernist élan certainly showed through.
International galleries are not foreign to ArteBA, but U-Turn's mix was conspicuously unique for its major European names, like Andersen's Contemporary of Copenhagen and Berlin's Johann König Gallery – both first timers, like all of the section's participants. Top galleries from other, more regional markets were also present. São Paulo's Mendes Wood and A Gentil Carioca from Rio de Janeiro were standouts, showing among other pieces, an elegantly simple collection of watercolors on graph paper by Daniel Steegmann and incredible collages crafted from of out-of-circulation international currency by Rodrigo Torres, respectively. And Casas Riegner Gallery of Bogotá and Mexico City's Proyectos Monclova, who already had a loyal followings among collectors here did not disappoint with their booths. Everything from performance art to sculpture to photography was represented. In total there were 11 galleries lining what was a large circular walkway and the lounge area at its center - a literal nod to the section's moniker.
'I was also hopeful that some of the local artists would find their way into these galleries, which they would not have access to without U-Turn, and Berlin's PSM signed a young Argentine artist called Eduardo Baswaldo, which is great,' says Mirvali.
ArteBA seems to be headed in the right direction. Given U-Turn's unqualified success, questions about its future were prevalent on the hall floor in the show's waning days, and while there were no firm answers, the collection's inaugural galleries were universally interested in returning to the fair – most notably those from Europe, but the new regional names were also won over. 'We really participated because of our belief in Abaseh, and it worked out really well. We did well, got to know the local collectors much better and the energy at the fair was really great, said Felipe Dmab of Mendes Wood. And Buenos Aires is an incredible city, so we look forward to next year. Why not, right?'
Receive our daily digest of inspiration, escapism and design stories from around the world direct to your inbox