Prosthetics and sculpture: art meets medicine at the Henry Moore Institute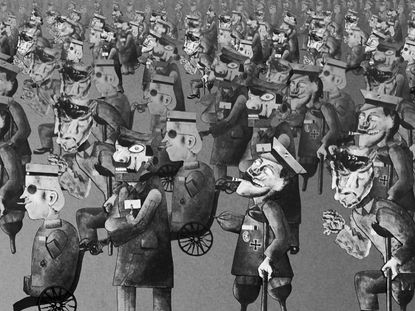 (Image credit: Courtesy Annet Gelink Gallery, Sommer Contemporary Art)
Is art useful? As part of its mission to 'to bring people together to think about why sculpture matters' a new exhibition running until October at the Henry Moore Institute in Leeds presents the art of prosthetics, positing the pragmatic side to sculpture and its ongoing dialogue with advancements in medical science. On view across three galleries, the exhibition brings together more than 70 examples, from the turn of the 19th century up to a new outdoor sculpture by Rebecca Warren.

The exhibition puts a particular emphasis on the response of creative thinkers in the postwar periods in Europe, where designers, artists and doctors were searching for solutions for the fragmented body – as well as ways to articulate and express new hybrid bodies, part man, part machine. Among the remarkable makers is Francis Derwent Wood, a British sculptor, who after being exposed to the horrific injuries suffered by men during the First World War (during which more than 20,000 British soldiers alone were facially wounded) opened a clinic for the disfigured, sculpting custom-made masks from thin metal for soldiers to conceal their wounds. It's part of a remarkable trajectory tracing the role of creativity in rebuilding and rethinking the body in times where it has been challenged by both politics and technology.

Alongside radical contemporary artists widely renowned for their interest in prosthetics and body modification – such as the late Louise Bourgeois and Rebecca Horn – are examples of experimentation with the forms and functions of the body by pioneers in other disciplines, such as the iconic design duo Charles and Ray Eames.
INFORMATION
'The Body Extended: Sculpture and Prosthetics' is on view until 23 October. For more information, visit the Henry Moore Institute website (opens in new tab)
ADDRESS
Henry Moore Institute
74 The Headrow
Leeds, LS1 3AH
Charlotte Jansen is a journalist and the author of two books on photography, Girl on Girl (2017) and Photography Now (2021). She is commissioning editor at Elephant magazine and has written on contemporary art and culture for The Guardian, the Financial Times, ELLE, the British Journal of Photography, Frieze and Artsy. Jansen is also presenter of Dior Talks podcast series, The Female Gaze.