Beach report: the best of Art Basel's shoreline shows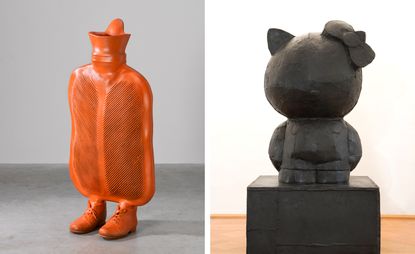 (Image credit: Galerie Thaddaeus Ropac)
Oh what awful fun Miami is when Art Basel hits town (give or take the four hours spent Ubering painfully slowly from place to place everyday). South Beach, where Hollywood meets Torremolinos, is a buzzing, sticky strip of art tourists, including the occasional Hollywood star, regular holidaymakers wondering why there is so much traffic and where all the funny sounding Europeans came from, and vacuous socialites, wearing as little as legally possible, here for the parties and the possibility of being shot by Patrick McMullan.

Nominally, of course, people are here to tear or dawdle down the aisles of the Miami Beach Convention Center. An awful lot did and, watching them, it strikes you how much the international art market is driven by women – trophy partners trophy hunting – dragging along men who look like they would rather be playing golf. (Of course, most of the prize game has been bagged by the time the standard issue VIPs are let loose, which adds to the odd sense of lust and disappointment which hangs in the air).

All of which is entirely tangential to the art on display of course. And amongst it there was quite of lot of new work by Alex Katz – now 88 but with an undimmed passion for ladies in swimwear – at Thaddaeus Ropac and Gavin Brown's Enterprise. And quite a lot of old Sigmar Polke at Michael Werner and elsewhere. Werner also had Marküs Lupertz and Wallpaper* favourite Gianni Piacentino. Lisson went with the Cuban/American, Puerto Rico-based partnership Allora & Calzadilla as well as Ryan Gander, Cory Arcangel and Anish Kapoor.

Pace went big, and to striking effect, with early sculptures from Louise Nevelson as well as wonderful wall-mounted slivers from Maya Lin. New York gallery Sikkema Jenkins had a strong stand with new works from Vik Muniz, Sheila Hicks and Kara Walker (on the basis of overheard conversations, all the ladies want a Kara Walker cut-out these days). As did Marian Goodman with new works from John Baldessari, William Kentridge and the beguiling geometrics of Gabriel Orozco. Victoria Miro arrived with curb appeal cracked painted wall-mounted tiles from Adriana Varajão – another multiple showing – and new works from Jules de Balincourt.

New York's Gallery Team, always worth checking out, had video work from Tabor Robak, photography from Ryan McGinley and other good things from Cory Arcangel, Andrew Gbur and Sam McKinniss. Tanya Bonakdar had circles of glass balls from Olafur Eliasson and the quietly moving practice of Sarah Sze.

Madrid's Galería González impressed with a stand dedicated to the American artist Robert Mangold. And, inevitably, the most purely enjoyable area of ABMA to explore was the 'Survey' section of 14 stands dedicated to a single artist; Vistamare had the light-filled abstracts of Ettore Spalletti; Tokyo Gallery + BTAP had the wonderfully intricate Japanese pioneering pop of Shinjiro Okamoto (there's no Murakami without Okamoto, for better or worse); Peres Projects brought the saucy psychedelics of Dorothy Iannone; DC Moore the wildly weird and beautiful watercolours of Charles Burchfield; and, a particular favourite, Bergamin & Gomide offered up the art of legendary landscape designer Roberto Burle Marx.

The biggest shock was the price of the food for sale inside the convention centre, which seemed precisely calibrated to the total wealth of everyone inside at any particular time (even the empanadas). And the favourite 'star' sighting? The elegant middle aged lady, currently frequently flying in the Apple Watch 'Travel' ad.
INFORMATION
For more information, visit Art Basel Miami's website (opens in new tab)