Giacometti's studio brought to life in art deco Paris mansion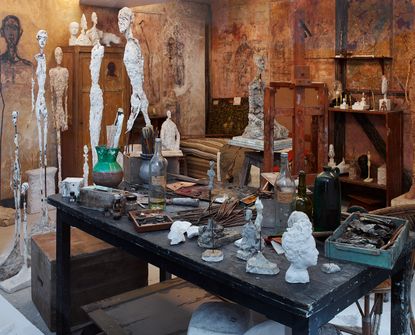 (Image credit: Marc Domage)
It is a vision come true. Alberto Giacometti's studio, an extension of the artist himself, has been meticulously reconstructed inside the newly opened Giacometti Institute in Paris. Here, one discovers fragile artworks in plaster and clay (some of which have never been shown to the public), furniture and the renowned murals painted by the artist, conserved in their entirety by his widow, Annette Giacometti. Fifty years after his death, the invaluable heritage is now accessible to the public alongside 350 sculptures, 90 paintings, over 2000 drawings and decorative art objects.

Located on Rue Schoelcher in the Montparnasse neighbourhood in what was then decorator Paul Follot's private mansion and studio, the Giacometti Foundation now houses the biggest collection of the Swiss artist's work in the world. Unique in style, the building (1912-1914) represents a précis of the artist's decorative career: while some of the rooms in the apartments refer to art nouveau, others reflect the then vanguard art deco spirit.
Alberto Giacometti in his original atelier.
Enhanced by Parisian architect Pascal Grasso with the aid of Pierre-Antoine Gatier, the historical spaces unfold as a 'maze-like scenographic pathway dotted with surprises and events' through a series of minimal interventions. Grasso explains: 'Partitions, picture rails, pedestals, and lighting fixtures in white stand out against the historic decors and appear to float. The form of the suspended lights was inspired by the geometry of the historic ceilings that accommodate them, to make new, contemporary chandeliers that extend the historic stratification of the venue.'

At the helm of the foundation is Catherine Grenier, a heritage curator and art historian, former deputy director of the Centre Pompidou. Her vision for the foundation is ambitious: exhibitions will present particular aspects of Giacometti's work, his relationships with the artists and writers of his day, his work seen through the lens of some of his generation's iconic photographers but also showcase his influence on the upcoming generations.
Spanning 350 sq m, the Giacometti Institute is located at 5 Rue Victor Schœlcher in the 14th arrondissement, the Montparnasse neighbourhood where Giacometti lived and worked throughout his career.
The Giacometti Institute is housed within the former studio of artist and interior designer Paul Follot, in a listed heritage building. The décor of the private art deco-style mansion have been preserved and restored by architects Pascal Grasso and Pierre-Antoine Gatier.
INFORMATION
For more information, visit the Fondation Giacometti website
ADDRESS
Giacometti Institute
5 Rue Victor Schoelcher
75014 Paris