At the Aïshti Foundation, international art is seen through the lens of Lebanon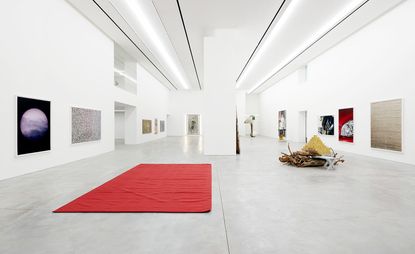 (Image credit: Guillaume Ziccarelli)
Luxury fashion entrepreneur Tony Salamé and wife Elham have been collectors of contemporary art for more than 20 years and have been looking for a way to exhibit their art and support local artists since relocating to Lebanon. Aïshti Foundation is the result: an art space that contextualises international contemporary work within the context of Beirut. 'Beirut's cultural openness gives us the freedom to show works that we could not always show in the Middle East because of censorship,' they say.

Designed by David Adjaye, the gallery is located next door to the Aïshti store in a developing former industrial area that neighbours the coast to the north of the city centre. Following the lead of other high-end fashion brands who have opened art foundations and museums – like Prada, Louis Vuitton and MaxMara – Salamé wanted the art not only to enhance the experience of customers buying at Aïshti, but to exist as autonomous space that promotes culture and the symbiotic exchange between art and fashion. 'Our aim is to create a "lieu de vie", a place that offers our community the best experience and the opportunity to see art and enjoy a day out, be it alone, as a couple, or with kids,' Salamé explains. The Aïshti empire in Beirut also includes a spa, a nightclub and a restaurant.

Back in the gallery, the latest exhibition is the third part in a trilogy. While the previous two exhibitions focused respectively on older works, taking in abstraction and its intersection with digital art, and the perspective of America through its artists as seen from Lebanon, 'The Trick Brain' – taking its name from a video work by British digital artist, Ed Atkins – presents the newest additions to the Aïshti collection and some of the youngest artists in the collection.
'With "The Trick Brain" we concentrated on younger artists and many that didnt fit in clear cut categories, so what emerges is an exhibition that plays with dramatic juxtapositions and contrasts, an exhibition in which collage serves both as a medium for many artists in the show and as the logic that governs the associations and connections among the works on view,' says curator Massimiliano Gioni.

Those juxtapositions include a room dedicated to works by Wolfgang Tillmans, in dialogue with sculpture by Danh Vo; while of-the-moment American painters Laura Owens, Henry Taylor and Caleb Considine move from the exhibition back to figuration in the present.

'I think what distinguishes the Aïshti Foundation is that it is committed to showing in Beirut works that would be rarely seen here,' Gioni notes. The Foundation has also helped promote the very active Lebanese art scene abroad, such as in the 'Here and Elsewhere' (2014) at New York's New Museum, among the projects the foundation has supported, which included Lebanese artists Etel Adnan and Mazen Kerbaj.

'Lebanon has been quite cosmopolitan for a few decades as many artists had to study and live abroad during the civil wars,' Gioni points out, in answer to what exhibitions like these might mean for local audiences. 'In Beirut there is a great tradition of politically engaged work, or work that addresses current histories head on. I am curious to see how Lebanese will respond to works that are often more oblique and opaque.'

In such a multifarious exhibition, what kind of arc can be traced in these works? 'It might be too much of a generalisation but one aspect that emerges from many works on view is a rather introspective approach to art and to the individual,' says Gioni. 'I am not going to state that it's a reaction to the state of the world: I'm not suggesting artists are just closing their eyes and looking inwards rather than just facing a reality that seems tougher and tougher to digest and understand, but I hope that through some of the artworks on view younger artists and the audiences will be inspired to develop more complex ways to look at the world around them.'
Information
For more information, visit the Aïshti Foundation website
Address
Aïshti Foundation
Seaside Road
Antelias
Lebanon
Charlotte Jansen is a journalist and the author of two books on photography, Girl on Girl (2017) and Photography Now (2021). She is commissioning editor at Elephant magazine and has written on contemporary art and culture for The Guardian, the Financial Times, ELLE, the British Journal of Photography, Frieze and Artsy. Jansen is also presenter of Dior Talks podcast series, The Female Gaze.