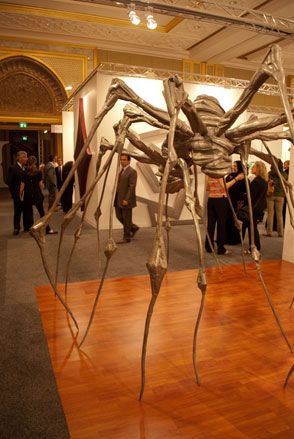 (Image credit: press)
Wallpaper* Newsletter
Receive our daily digest of inspiration, escapism and design stories from around the world direct to your inbox
Thank you for signing up to Wallpaper. You will receive a verification email shortly.
There was a problem. Please refresh the page and try again.
Art fairs tend to be less about the art than the money. And, until last week, you could say much the same thing of the city of Abu Dhabi. With its inaugural Art Abu Dhabi, however, the alleged richest city in the world surprised everyone. This event was very much about the art, and the sales were, if not of secondary importance to the buzz created by the culture, at least equal.
During the week, Abu Dhabi began to prove to locals and international visitors – whether tourists, bankers, collectors and critics - that this city was no longer the cultural desert it has long been reputed to be.
Abu Dhabi Art, hosted in the grand, gold-lined setting of the Emirates Palace, was a boutique affair by comparison to Frieze, Basel and Dubai.
Concentrating on showcasing only 50 galleries, the work on show was as international as it was high profile, including seminal works from Alexander Calder, Damien Hirst, Jeff Koons et al – most of which had never been represented in the region before.
Masterworks from Joan Miro (at Gallery Maeght), Picasso (at Galerie Patrice Trigano and Richard Gray Gallery), and Dennis Hopper (Tony Shafrazi Gallery) sat alongside Richard Prince at the Gagosian booth, Mounir Fatmi at Paradise Row and Marc Quinn at White Cube in what could only be described as a museum quality display.
Although there was much media speculation on the sales made during the event, according to Rita Aoun Abdo, arts and culture director at the organising body TDIC (Tourism Development and Investment Company), the real incentive behind the show was to begin to expose Abu Dhabi to art, design and culture (and vice versa) in preparation for the coming years as the city repositions itself as a cultural hub.
In a rare move for an art fair in its first year, Abu Dhabi Art incorporated a prepossessing design programme, which proved to be a major draw – housed in a specially constructed 'Design Studio' on the Palace beach. Workshops and performances led by Maarten Baas, Max Lamb and Sevile Peach were developed in conjunction with the Vitra Design Museum, and a pavilion was also devoted to five up and coming Middle Eastern designers.
To coincide with the event, the city also saw the first openings and architectural tours of the rapidly developing Saadiyat Island, where from 2012 Abu Dhabi will see three major new museums open their Hadid, Nouvel and Ghery designed doors.
"But art should not be confined to museums," says Aoun-Abdo. The breadth of Abu Dhabi Art was "so that people in Abu Dhabi begin to see culture as something that they can experience in their daily lives. Abu Dhabi Art needs to create awareness and start a dialogue. For this reason we wanted to make it as broad and as accessible as possible – art and design are often seen as elitist, but with this platform we are preparing the ground for the changes ahead, informing, educating, and thinking in the long term."
She explains that although the establishment of the fair will be linked to Abu Dhabi's essential and ongoing acquisition process, and that "the commercial aspect is important in order that it stays sustainable, the fair is also a tool for other ends and objectives – to start a dialogue, and to show how this place is growing in a very credible way."
Receive our daily digest of inspiration, escapism and design stories from around the world direct to your inbox