The World Around Summit 2022 takes us across the globe through architectural debate
We checked out The World Around Summit 2022, and offer you the highlights of some of the most current and timely debates in the architecture world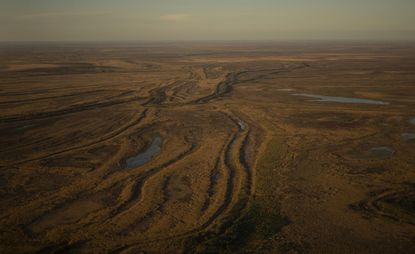 (Image credit: Sebastian Lopez Brach)
What constitutes architectural heritage? How can we reimagine the future? Who or what can be used as an alternative witness of the past? These were some of the questions posed at The World Around Summit 2022. Hosted at the Guggenheim Museum, in collaboration with the Het Nieuwe Instituut, the summit featured a diverse range of thinkers, writers, designers, artists and architects, presenting both in-person as well virtually, including Tadao Ando speaking from Osaka and DAAR from Stockholm.
The first session, titled, 'Schools, Sneakers, Stories and Other Agents of Change', was commenced by Lesley Lokko with a reflective and inspiring talk on pedagogy and African futures. Sharing a short film created by a former student, Gugu Mthembu, whose work presents multiple narratives both spatial and feminist, Lokko demonstrated the radical possibilities of an expansive architectural education.
The conversation soon shifted to focus on time, preservation and alternative approaches to history in the second session: 'Ice, Stone, Sad and Other Archives'. Artist Himali Singh Soin fused magical realism and colonial history to propose ice as an alternative archive and storyteller in the history of the Arctic. Speaking from Beijing, husband-and-wife duo Li Hu and Huang Wenjing of Open Architecture discussed how their recently built Chapel of Sound can 'coexist and endure the weathering, the harshness of nature', taking lessons from the nearby eroded section of the Ming Dynasty-era Great Wall.
The last session, 'Trees, Words, Images and Other Monuments', questioned what constitutes heritage. Pondering the role of architects in reconfiguring and decolonising our notion of heritage, architect Paulo Tavares asked whether a forest can be considered a monument of the destroyed settlements of the Xavante people in Brazil. Similarly, Sandi Hilal and Alessandro Petti, co-founders of DAAR, expanded our understanding of heritage to include those displaced. Examining the context of Dheisheh Refugee Camp in Palestine, they posed the question of how we can learn from and look at refugee camps 'as a place where people are able to build their own stories and build valuable life'. Like DAAR and Tavares, Miriam Hillawi Abraham disrupted the Eurocentric view of heritage through the use of fiction and virtual reality in her video game set in the monolithic churches of Lalibela, Ethiopia.
In the words of the event's founder Beatrice Galilee, The World Around summit endeavours to be 'a first draft of architectural history, an archive and resource for actionable change'. In that spirit of accessibility, this year's summit and the previous years are all available to watch on the organisation's website, as well as the Guggenheim YouTube page.
A rescheduled session of The World Around Summit 2022 will be held in Rotterdam at the Het Nieuwe Instituut on 11 June.
INFORMATION
theworldaround.com (opens in new tab)