Studio East pavilion by Carmody Groarke, London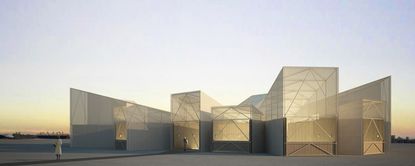 (Image credit: Westfield Stratford City)
London architects Carmody Groarke have just unveiled the first images of their temporary Studio East pavilion, which will perch on the parapet of the under-construction Westfield Stratford City. From 16 June, this complex form will be home to 'Studio East Dining', hosted by London restaurant, Bistrotheque, for three weeks.
The pavilion's exploding form is being built from materials borrowed from the shopping centre construction site beneath it, including scaffolding and reclaimed timber. The undulating roof will be clad in a recyclable, semi-translucent membrane, which will glow at night.
'We conceived the design of the pavilion taking into account the very short construction time, the short life span of the restaurant and the need for it to return to a construction site shortly after,' say Kevin Carmody and Andy Groarke (opens in new tab), the RIBA Award-winning pair also behind Wallpaper's '12,000 stitches' installation, at our 'Wallpaper* Handmade... in Italy' exhibition in Milan.
With no front or back, the pavilion's projecting wings can be seen from all sides. Inside, these create a cluster of interconnected timber rooms, while their external balconies frame the views of the emerging Olympic Stadium and Zaha Hadid's Aquatic Centre nearby.
The culinary experience is devised by Bistrotheque (opens in new tab) head chef, Tom Collins. Expect a seasonal modern feast, including steamed sea bass, asparagus and samphire. Bistrotheque owners Pablo Flack and David Waddington kick-started the pop-up phenomenon when they opened 'The Reindeer' on Brick Lane in 2006, a temporary, Narnia-esque dining room, to which Londoners flocked in droves. Bookings for Studio East Dining - 'the Rolls Royce of pop-ups,' according to Waddington - will be open from 12pm on 3rd June.
The project was set in motion by the 'Studio East cultural panel', created by Westfield Stratford City. Headed up by creative big-guns, including Tracey Emin and Tom Dixon, its aim is to provide a bursary for a series of artist commissions at the epic new shopping centre.
Carmody Groarke's pavilion is expected to be finished by 6th June. Meanwhile the architects are also putting the finishing touches on 'The Surreal House' - their extraordinary space created for the exhibition of the same name at The Barbican Art Gallery (opens in new tab) (opening 10th June). This is also the location for Wallpaper's latest fashion shoot. But to see more, you'll have to wait for our October issue...