Giacomo Zamboni's Stealth House fits right into its rural Swiss location
Stealth House in Switzerland is a generous family residence by ZMB Architettura, inspired by aircraft design, dressed in Molteni&C|Dada, and cleverly hidden in the Lake Lugano countryside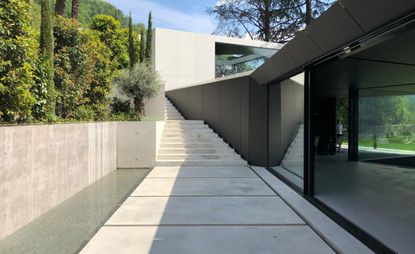 (Image credit: zmbarchitettura)
Located on a green hillside in Morcote, a small village in South Switzerland, the Stealth House spans over 1000 square metres yet is remarkably unobtrusive in its mountainous landscape.

Sheltered under a spectacular matt black metal roof, the low-lying, black wood-paneled and glass-walled house snakes across its site with picture-postcard views of the Lake Lugano to the south. Its design is the work of architect Giacomo Zamboni, whose small studio ZMB Architettura is based in nearby Lugano.

'The initial brief was to construct something open and unconventional, something special,' explains Zamboni, who was commissioned to design the home by a family of Swiss entrepreneurs. 'The project evolved over the course of the design and construction process, enriching itself with numerous details that contributed a final structure of great spatial complexity and abstraction.'

Spread across three levels and two wings the house hides and reveals its full height as it winds through its sloping site. The house's central living area, where the two wings meet, features automated glass walls that open up the space on both sides. On the south side, a vast terrace with an outdoor kitchen sits under the cantilevered roof, blurring the boundaries between inside and out.
Zamboni compares the angular, enveloping roof to a 'protecting wing' under which to enjoy the surrounding landscape. 'The roof is the fifth facade of the building,' he reveals. 'It's the centerpiece of the whole project.' Its design is specifically inspired by the wings of the stealth aircraft - a Lockheed F-117 Nightwalker to be precise.

From the living area, a staircase leads to the floor below where hidden spaces are discovered, such as the indoor swimming pool and the underground gym, illuminated through a triangular patio. The master bedroom is also a traversing space – to the north, a patio diffuses indirect light, while the south window opens toward an intimate garden.

While matt black cladding panels cover the exterior so that the house hides in the landscape, Zamboni said the decision to use a dark palette within the interiors was taken to 'give it a monolithic feeling' while also reducing the glare of the sunlight. Indoor walls are either exposed reinforced concrete or covered with custom-made matt black panels. The walls are complemented by ceilings painted with semi-gloss black varnish with a wood effect while cement resin floors give indoor-outdoor continuity.

The interiors are furnished in collaboration with Molteni&C|Dada Contract Division with standout pieces including the Free Style sofa system designed by Feerruccio Laviani in the living area, which sits alongside the D.156.3 armchair designed by Gio Ponti and the Elain armchair designed by Vincent Van Duysen. The Dada kitchen is also designed by Laviani - the Hi-Line 6 with a custom made black linear table.
INFORMATION
zmbarchitettura.com (opens in new tab)