Stayner Architects revive Wave House – a lost Palm Springs gem
Los Angeles-based Stayner Architects is behind the thoughtful refresh of a Walter White house in the desert, a mid-century modern classic available to visit during the 2020 Palm Springs Modernism Week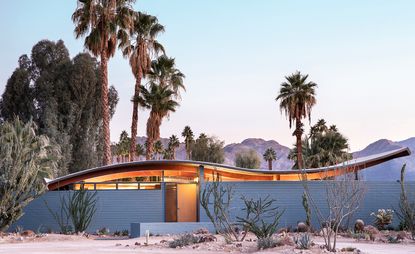 (Image credit: Tim Hirschmann)
Christian Stayner, the namesake principal of Stayner Architects, had never attended Palm Springs Modernism Week before. He happened to be there in search of a place in the desert to make his mark; his firm was initially thinking new construction. Then he ended up at an auction where he rediscovered the world of Walter White - not the other desert dweller you might be thinking of - an architect and industrial designer, who lived through most of the 20th century. White was a prolific modernist and primarily worked in the Coachella Valley and, later, in Colorado Springs, Colorado.

At the auction, Stayner purchased the appropriately named Wave House, one of White's mid-century modern gems, which he designed and built for artist Miles C Bates in 1954. White worked briefly for R.M. Schindler in the late 1930s, and Schindler's inventiveness seeming to rub off on him, at least in the way that White was able to collaborate with his own clients.

'I hope to find clients in my career like Miles Bates was to Walter White — open to architectural experimentation, enthusiastic about marrying formal invention and environmental sustainability, and willing to explore new modes of living in an arid and unforgiving climate,' says Stayner.
Stayner's team went back to the original draft work by White, housed at the University of California at Santa Barbara. 'We had some photos of the house, but not of every room and not from every angle,' he says. 'There were discrepancies in the drawings themselves. We were careful not to entirely erase that from view.'

The results are breathtaking; the house feels like a time warp back to the Frank Sinatra 1950s, and yet it's completely contemporary in its timeless design. It's filled with spot-on details, handpicked for their letter-perfect fit by Stayner Architect family members: LIFE Magazines; vinyl albums; Scandinavian modernist furniture, textiles by Tibor LTD and Kvadrat (Denmark), vintage Russell Wright tableware, and various vintage cookware pieces.
This year, Stayner Architects will break ground on two new structures that will add 1,400 sq ft – including four guest suites, a commercial kitchen, and a shared pool and courtyard area – to the compound they are calling Desert Wave (in 2021, Desert Wave will be available for rental for retreats, artist residences, and special events).

'The new construction is deferential to the original house,' Stayner says, 'but definitely in conversation with Walter White. We are picking up some of his experiments and pushing them further both formally and tectonically, such as the unorthodox roof construction — in our case a modified dowel-laminated timber construction of the new structure. We hope that if a future architect comes along, he or she will step in to care for one of our designs after we're no longer around.'