Simply modest: AHR bring life back to shores of Scotland's Stranraer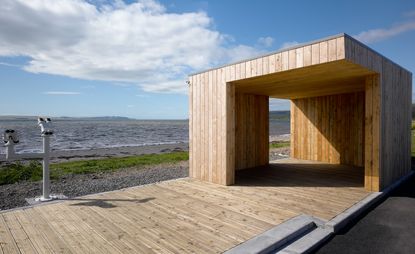 (Image credit: Daniel Hopkinson)
When the western Scottish town of Stranraer lost its ferry terminal to neighbouring Cairnryan just five miles up the shore, it also lost a great deal of passing trade and one of the most important reasons many people spent time there. To counter the inevitable economic and social repercussions, millions are being spent to regenerate the town and give it a new lease of life.

One such regeneration scheme is a series of landscape and architecture interventions – or Gateway projects – designed to 'remind people of the natural context within which the town sits,' says Martin Robinson, a director at the Glasgow office of architecture and building consultancy AHR (opens in new tab) who have designed the gateways. Two have been confirmed and the first to complete sits on the shoreline between Stranraer and Cairnyran. With a modest budget of £55,000 and a palette of simple materials and straightforward but effective architectural moves, the practice's landscape design team has managed to transform a small and uninspired layby into an attractive and contemporary-looking place to stop, eat, bird-watch and take in the expansive views of Loch Ryan and the surrounding untamed landscape.

The wild views were always there but no-one was really paying attention. Where before there was just a tired-looking pebble-dash café with clumsy signage and a long stretch of tarmac, now there is a timber-clad café with new livery and galvanized polyester powder-coated metalwork and a cantilevered pavilion, also clad in Scottish larch, that frames the views and provides shelter and seating (the benches hadn't yet been installed when these photos were taken). There's also a generous raised but wheelchair-accessible timber deck outside the shelter, as well as a binocular observation point. 'We took a porthole theme that you might have on a boat but reversed it by looking out from the shelter towards the new port and the boats,' says Robinson. 'It's subtle but it piques your interest.'

What a difference a modest budget and a good architect can make.