Power play: Red Bull's new copper-clad Berlin recording studio
Red Bull unveils the latest addition to its network of state-of-the-art recording studios with a copper-clad design built inside a former power station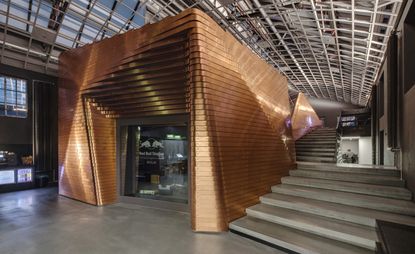 (Image credit: Jan Bitter)
Wrapped in over a kilometre of undulating copper bands that mimic the natural flow of sound and music, a new music hub in Berlin is the twelfth addition to Red Bull's international network of state-of-the-art studios, offering a creative space for established and grass roots artists.

Designed by Los Angeles-based studio Optimist Design – who are made up of architects, interior and spatial designers with digital experience – the new theatrical studio space is located inside a former 1920s power station.

'Red Bull's revitalisation of the power station is a perfect metaphor for the resurgence of Berlin as a capital of ideas,' says Michael Brown of Berlin-based Optimist Design. 'The city's unused former industrial spaces, rendered obsolete by shifts in technology, provide a post-industrial canvas for the creative exploration of music, art and culture.'
In order to retain the industrial feel of the space, Optimist created a series of sculptural copper-clad rooms within the power station's existing walls. Chosen to echo the aesthetic of the existing space, the copper cladding sits in contrast to the dark graphite that is used throughout the rest of the interior. A winding staircase that runs through the centre of the space leads up to a mezzanine lounge perched on top of the recording rooms. From here, a series of spaces for group meetings or individual practise overlook the recording areas.

Acoustics experts Erik Breuer and Imar Sanmarti advised Optimist on which absorption materials, surface and diffusion areas would support the perfect sound platform.

'The design was shaped by acoustics,' explains Tino Schaedler, founder of Optimist Design, who created film-based, 3D drawings of the space to create a virtual journey before the build started. 'This was then broken down into prismatic surfaces to ensure perfect sound for the recording and mixing space.
'Ultimately, the music is about creation, but at the same time it is also about communication and the experience involved in the process. The space is a platform to foster creativity, add spirit and make people feel comfortable.'
INFORMATION
For more information visit Red Bull Studio's website (opens in new tab)
Photography: Jan Bitter