Polo Villa is a Barbadian home offering privacy, pizazz and pitch-perfect views
Step inside Polo Villa, a Barbadian home by local practice Elements Architecture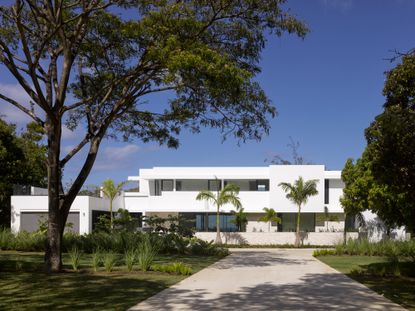 (Image credit: Will Pryce)
On the west coast of Barbados, the land drops away from the hills to the sea. The prevailing breeze comes from the east, easing the consistently warm Barbadian climate, whose winter temperature average of 26°C is only a degree lower than the summer average. The hills are shaped into a series of steeper slopes and flatter ridges, and it was on one of these ridges, next to a polo field, that architect Douglas Patrick Luke took some clients to look at a potential site.
Like many of the architects that have designed luxury villas here, Luke has an impressive CV, having studied architecture at Florida A&M University before working with Demetri Porphyrios, Léon Krier and Stefanos Polyzoides. However, unlike many of his competitors, Luke is Barbadian. Indeed, he was living across the street from the site when he took his client to view it: 'It was a choice between this location or a site inside a golf resort. I'm so pleased they chose here.'

Polo Villa by Elements Architecture
Luke's clients, a couple from the UK, had been faced with a common dilemma; whether to site their new-build house within Barbados' existing urban fabric, or, as is more common, to locate it inside one of the island's many gated resorts. Integrating their new home into an existing streetscape would mean integrating into an existing community. It was a course Luke recommended, based on his local knowledge.
Luke is principal at boutique Barbadian practice Elements Architecture, based in St James. The design that he, and project architect Marielle Assue, presented for this site reflected a self-consciously Barbadian sensibility. 'Our lifestyle here is unique,' he says. 'We like to live outdoors and we like to bring the outdoors inside. At Elements, we create architectural forms that celebrate this.'
The design was accepted and built during the pandemic. As evidence of its openness to its environment, the building site came to be adopted by a local chicken. 'It was here the whole time,' says Assue. 'But that's the point – on Barbados, chickens run free.'
The result is a house that mingles with the varied architectural styles of the area, its sleek façade and long slot-window reminiscent of the early modernist villas of Eileen Gray and Le Corbusier. Named Polo Villa, it spans the width of the site on a north-south axis, orientated to maximise the prevailing breeze and the views. The minimalist white-rendered upper storey is tempered by the softer stone-clad base, chosen to mimic the native stone.
Its full-height front door pivots open to reveal a glimpse through the house of the sea in the distant beyond. Stairs lead up on to a stone floor that runs all the way from the entrance portico to an infinity pool, and then steps down into the garden. Behind the uniformity of the façade, the house is broken up by narrow strips of garden that partition the house into a series of separate volumes. The largest volume houses the ground floor living space with two bedrooms located above. The only 'dining room' sits on the patio outside. Says Assue, 'In Barbados, you want to dine outdoors with an uninterrupted view over the pool towards the sea.' A volume housing facilities and a garage backs on to an outside kitchen, while another volume contains a further two bedrooms, and a smaller one-storey volume contains a guest bedroom.
It's a five-bedroom house stacked into a fairly small footprint, so some skilful volumetric planning was required to allow for privacy. All bedrooms have exterior balconies screened by louvres that have been angled to ensure each is not overlooked by other parts of the house. In the master bedroom's bathroom, full-height glazing can be pulled back to allow for the sensation of showering in the open air while still being entirely hidden by full-height privacy screens.
And at the highest point, on top of the garage, is a compact green-roof entertaining space, where a contemporary Caribbean lifestyle can be enjoyed in celebrations that take in a few polo chukkas, while allowing Luke's clients to privately reflect on the wisdom of their choice.
A version of this story appears in the June 2023 Travel Issue of Wallpaper*, available now in print, on the Wallpaper* app on Apple iOS, and to subscribers of Apple News +. Subscribe to Wallpaper* today
Will Pryce is a photographer and writer with a focus on architecture and design, who works internationally for editorial and commercial clients. He has photographed and written a number of books on architecture including 'Architecture in Wood' (2005) and 'World Architecture - The Masterworks (2011), both published by Thames & Hudson. He lives in London with his family and is refusing demands to get a dog.