Søren Rose Studio crafts a Miesian Park Avenue penthouse with a pool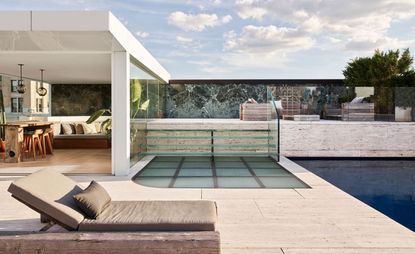 (Image credit: Photography: Brooke Holm)
High above Park Avenue South, this 6,000 sq ft penthouse apartment on the top floor of a new residential block was designed by Søren Rose Studio for a Swiss-American couple who use it as their base when they visit New York. Asked to 'make us a magnum opus' and given an extremely elastic budget, the designers describe the resulting project as 'a journey into bespoke craftsmanship.'

The drama begins at the heavyweight front door built by Tyler Hays at BDDW, which has a forbidding exterior of blackened brass but is lined inside with tactile Cognac-leather panels – it's opened with custom keys that the owners can wear (if they wish) as pieces of jewellery.

Immediately inside, the hallway is dominated by a book-matched Verdi Alpi marble wall that rises through two storeys to the rooftop swimming pool. If this element looks familiar, that's because it's the same marble that Mies van der Rohe used for his legendary Barcelona Pavilion, which Søren Rose Studio sourced from the original quarry in the Alps.
The hallway leads to the expansive living-dining area on one side, with the study and master bedroom on the other. The whole apartment is flooded with light from ranks of windows, and the pale colour palette gives it a cool Scandinavian feel – though perhaps that's not surprising given studio founder Søren Rose's Danish origins.

All the crisply detailed carpentry was handmade in Copenhagen (millwork by Københavns Møbelsnedkeri), where the studio has its second office, and features clever details such as the shoehorn hidden in the hallway bench and the ladder integrated into the study bookshelves. Perhaps the cutest touch, however, is the tiny 'weed' sculpture by Tony Matelli growing from the wall below the stairs – a visual joke between the studio and the owners about the five painstaking years it took to complete the project.
INFORMATION