Paramount Alma Residence by Plasma Studio, Austria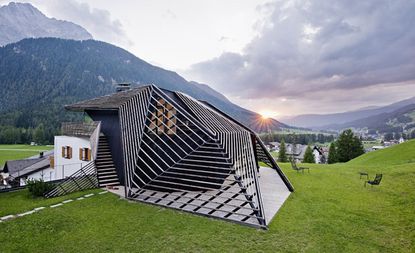 (Image credit: Hertha Hurnaus / Hernaus.com)
Snowy peaks and peaked roofs dominate the landscape of the South Tyrol, though one architect is doing her best to challenge tourists' expectations. Ulla Hell, whose architecture practice Plasma Studio (opens in new tab) built the delicately slinky Strata Hotel (opens in new tab) in 2008, has transformed a neighbouring property with the same blunt angles and timber-strip cage-like shell.

Hell's initial challenge was to refurbish a 1960s guests house, built in the twee Dolomite vernacular, adding new common areas and staircases at its core. That challenge grew when she decided to move her family, as well as an Italian office for her firm, into an annex on the site.

The architect doesn't do pitched roofs; Plasma Studio has become known for its contemporary, geometric forms that fold over landscapes like origami. Hell eliminated the uninhabitable pitched roof of the hotel and replaced it with a wood-slat entity that reaches over the existing structure and slopes back down to the rising terrain. The new overhang incorporates a vast, glass-walled living space and wraparound terrace - both set at an angle from the original footprint, like a box lid come loose.

From there, the family home reaches out to a grassy landing to the rear of the hotel, protected always by that timber-strip shell. The main entrance is on that level field, via a jagged break in the wood slat, where the house appears to have been cut through by lightning. The interior forms, mostly glazed on multiple sides, follow that angular motif.

The walls inside are impressively dynamic, folding in places and never travelling in one direction for long. Jutting here and there, they make room for triangles of seating and shelving, and give way to shards of glazing that bring the mountain views inside.

The interior seems meticulously and mathematically planned, but Hell says she worked 'from the outside inward, building toward the hillside that comes to the house, playing with how the volume touches the ground, smoothing the boundary between the natural topography and the house itself'.

At the same time, she says she wanted to challenge 'the internal experience of the spaces'. But what she ended up truly challenging was our perception of contemporary architecture.