New balance: painter James Jean blends life and work in a renovated 1970s Frank Gehry home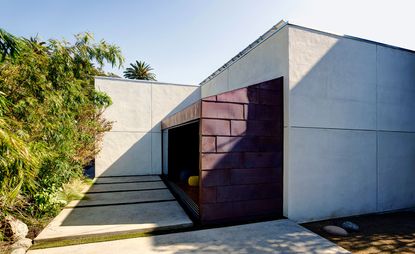 (Image credit: Richard Powers)
Artist James Jean lives and works in a modern house with history. The Hide Out, in the Little Osaka district of Los Angeles, was designed by Frank Gehry in the 1970s, but the clients, art collector Edwin Janss Jr and his wife, radically altered his plans. The house became a private gallery, guest house and entertaining space. Just a handful of Gehry's original ideas made it through, including a vast skylight illuminating the ground floor. For Jean, who was looking for a new home after an extended period in Japan and Asia, this context was not only intriguing but also offered relative freedom for him and his architect, Dan Brunn, to adapt and tailor the Hide Out. 'Since art is an all-consuming aspect of my life, I could see that the house could become an efficient machine for the production of my work, while also functioning as a fun and beautiful environment for my family,' says Jean. 'The history certainly added to its allure, but even without that history the space was incredibly special and well suited to my work.'

Born in Taiwan, Jean moved to the US with his family as a boy and grew up in New Jersey. After graduating from the School of Visual Arts in New York, he began a career as a commercial artist and illustrator, working on covers for DC Comics and artwork for clients in the creative and advertising sectors, including Atlantic Records and Prada. From 2008 onwards, Jean refocused on painting. Exhibiting his work worldwide, he started to spend an increasing amount of time in Japan, where his wife comes from. Today, Jean exhibits and spends part of the year there. His Japanese influences have extended into the Hide Out, which includes a tea room and a garden created by Japanese designer Hitoshi Kitajima. Jean and Brunn first met at an art festival in Hawaii. It was a fortuitous meeting for both, and Jean and his wife later spent a few weeks staying at Brunn's LA home as they looked for a place to buy.
A pull-down bed allows the library and tea room to be converted into guest quarters
The Hide Out was the perfect solution – a raw, open space that could be moulded to Jean's needs. 'Interestingly, the design choices I made align to Gehry's original intentions for the house, although expressed in my own language,' says Brunn. 'My intent was to take inspiration from James' own work and mesh it with Gehry, and yet create a unique feel to the space and elements. Picking up cues from the arabesque strokes in James' paintings, combined with some sculptural Gehry geometry, we created a new experience.' The fresh focal point for the reinvented house is a sculpted, latticed timber staircase, drawn up by Brunn on his computer and handmade in walnut.

The fluid, semi-open-plan spaces of the ground floor largely revolve around this centrepiece. It leads you through the building from front to back and to the upper level, which has two bedrooms and an open roof garden, originally conceived by Gehry as a glass-encased box. The heart of the house is a large, open space with Jean's art studio on one side, benefiting from the upgraded skylight, and the main seating area on the other, floating upon a charcoal rug on the concrete floor. This space, which flows through to the new kitchen, also hosts the family dining area. The emphasis on fluid living continues in the library, which can act as part of the main space or be separated off by a vast pivoting door. The library doubles as a guest room, with a pull-down bed hidden in one wall, and joins with the walnut-panelled tea room to one side.
The exterior has been refreshed with new landscaping and cladding
This is another crafted gem, offering a restful retreat that connects vividly with the garden. 'Since moving into the house we have actually lived in the space in a variety of different configurations,' says Jean. 'We began by using the tea room and library as our bedroom, since it was easy to keep an eye on our baby son in one space, but now that he's older we have migrated upstairs. My studio has also gone through a few configurations.' Sitting right at the heart of the house, the open studio suits Jean perfectly.

Top-lit and spacious, it is practical as a painting and creative space, while keeping him connected to the daily rhythm of family life. 'There are constant interruptions throughout the day, but they provide a much-needed friction to creativity that sometimes leads to more interesting work,' says Jean. 'I love the light and the open space and how the simplicity of the house is punctuated by incredible details, like the staircase and the tea room. The façade of the house doesn't reveal much, but once you step through the door it's like entering the playground of my mind.'

As originally featured in the May 2017 issue of Wallpaper* (W*218)
INFORMATION
For more information, visit the Dan Brunn website (opens in new tab) and the James Jean website (opens in new tab)