Open House worldwide: the keys to the kingdom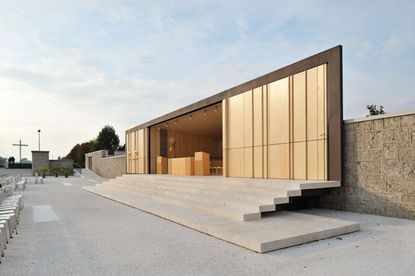 (Image credit: TBC)
After September's bumper London event, architecture buffs from New York to Helsinki, are gearing up for this autumn's run of Open House (opens in new tab) weekends across the globe. The annual gatherings feature hundreds of private homes, studios, offices and monuments open for public enjoyment and inspection, along with architecture-related lectures, city walks and guided tours. Offering unrivalled access to normally off-limit locations, this year's Open House newcomers range from an ultraenergy efficient Passive House in Brooklyn, New York, to Barcelona's baroque Palau Moxó, built back in 1770 by Francisco Mestres.
Indeed, a record 200 buildings will feature in the New York Open House (opens in new tab) this year - along with over 130 in Jerusalem (opens in new tab), and 150 in Dublin (opens in new tab) and Barcelona (opens in new tab) - luring some 200,000 visitors to each two-day event. Non-profit and completely free, the Open House movement is, perhaps, the most ambitious and wide-ranging global effort to transform architecture from arcane and academic to accessible and enjoyable. 'Open House is for people who truly want to engage with cities and who seek a dialogue with the built environment,' says Victoria Thornton, who founded Open House London back in 1992. 'It's a way to experience architecture not from the outside, but from within.'
This month, the Open House programme unlocks some of architecture's most interesting doors in Dublin, Galway (opens in new tab), New York and Barcelona, and is swiftly followed by the similar Houses from Within Jerusalem (opens in new tab) event from 4 to 5 November. Tel Aviv's Houses from Within (opens in new tab) takes place next May, followed by Melbourne Open House next July. The real news, however, is the launch of three new Open Houses - an official Slovenia (opens in new tab) programme this October along with Open House Chicago (opens in new tab) the following week and a Rome version slated for spring 2012. It's the largest expansion since Thornton established Open House's London prototype and clear confirmation of the phenomena's economic and cultural impact on its host cities.
With Open House London celebrating its 20th anniversary next year - and New York City its tenth - Open House has gone from being a marginal sideshow to a bona fide main event. As it breaks the boundaries between private and public, Open House participants learn to view the city's 'rich and diverse built environment as one of its core assets', says Open House Chicago's managing director, Bastiaan Bouma, 'while gaining an appreciation of the economic contributions associated with good design and planning.'