Fertile ground: Mohamed Alabbar is launching a regional rival to Amazon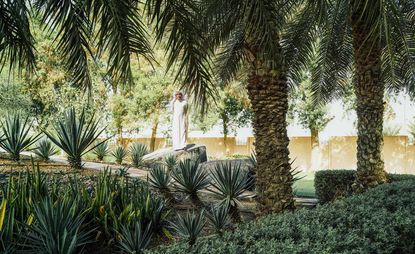 (Image credit: Jason Koxvold)
Name a Middle Eastern brand. Fifteen years ago, the world had only heard of one: al-Qaeda. How times have changed. Today, we have airlines, including Emirates, Qatar Airways and Etihad; hotels, like the Jumeirah, Rotana and Address chains; developers, notably Emaar, Damac and Nakheel, the company behind Dubai's iconic Palm Jumeirah; telecoms outfits, such as Orascom and Etisalat; and shopping malls – Dubai Mall is the most visited place on earth, attracting 80m shoppers a year who generate sales of more than $4bn.

Dubai itself is now a brand: the outward-looking, socially liberal and religiously tolerant capital of modern Arabia – the local answer and antidote to al-Qaeda. 'This city is amazing, what it does for people, for Muslims, for the world,' says Mohamed Alabbar, looking out over the skyscrapers that rise from the dusty desert scrub like giant exclamation marks of prosperity and modernity. Never heard of Alabbar? You have and, actually, you're a fan – if, that is, you've admired or visited the Burj Khalifa, the world's tallest building, shopped at Dubai Mall, or stayed at one of the Armani hotels in Dubai or Milan. His firm, Emaar, the largest developer in the region, which has built 50,000 homes and dozens of hotels and shopping malls, created them all. And that's just the start. With architect Santiago Calatrava, Alabbar is building an even taller tower than the Burj Khalifa – the $1bn Dubai Creek Harbour Tower. Slender and flared at the bottom, he describes it as the Middle East's answer to the Eiffel Tower.

'My doctor is quite concerned. He tells me: "Mohamed, you've done one tower, please slow down."' But the billionaire won't listen. In fact, he's doubled down. Next to the new tower, he's creating another vast shopping mall, part of the $60bn development of a new 6 sq km district, called Dubai Creek Harbour. Alabbar is also moving from bricks and mortar into clicks and mortar. He has just bought a 4 per cent stake in Yoox Net-a-Porter, run by Federico Marchetti, for €100m. The two men will extend Net-a-Porter to the Gulf. Neither Yoox nor Net-a-Porter has a website in Arabic or dedicated distribution in the Middle East, even though the region accounts for 5 per cent of the $220bn global luxury market. The joint venture will be 60 per cent owned by Yoox Net-a-Porter and 40 per cent by Alabbar through his family office, Symphony Investments. Alabbar, along with other prominent investors in the region, is also investing $500m to launch Noon, the Middle Eastern answer to Amazon. Saudi Arabia's state- owned Public Investment Fund is matching him dollar for dollar to create a $1bn start-up.
'Noon will be Amazon, plus, plus, plus. It will sell up to 20m items – home and garden, electronics, high-street fashion, even groceries,' he says. To help him expand further in technology, Alabbar has also set up a $1bn fund to invest in other start-ups, 'in healthcare, education, marketplaces, banking, a lot of stuff '. Put simply, Alabbar is becoming the world's most high-profile modern Arab entrepreneur: Donald Trump, Jeff Bezos, Federico Marchetti, Vittorio Radice and Rocco Forte rolled into one dishdasha. 'No, no, no, no,' the 60-year- old laughs, pretending not to enjoy the comparison. He is doing it for money, of course. 'My quarterly results are everything,' Alabbar says. 'I make a lot of money for shareholders.' Emaar's assets are valued at more than $45bn. He believes e-commerce will grow fast in the Middle East, even though many brands are still struggling to recover from the economic slowdown in the region, sparked by the fall in the oil price. 'E-commerce is the way to go. It is not even 2 per cent of the overall retail market. That's the good thing! We believe it will grow to 15 per cent – $70bn,' he says.

The region boasts 200m young people who are tech-savvy, he points out. He is not put off by taking on giant incumbents, such as Amazon. 'This is our market. We know it well,' he says. 'We operate in 22 countries, with 22 rules and regulations. It is easier for us.' That's one reason Marchetti has partnered with Alabbar. Nor does he think that building a vast new shopping mall, to add to the giant one he already has, will prove a misstep, given his predictions for the growth of e-commerce. The trick, he says, is to build urban, integrated malls that give people lots of reasons to visit – not just shopping. 'We have never built stand-alone malls. All our malls have our kingdom around it.' Dubai Mall is part of Downtown Dubai, an Emaar development that also includes the Burj Khalifa, the Armani Hotel Dubai, Emaar's flagship Address hotel, Vida and Manzil hotels, and the world's tallest performing fountains. 'They all help each other to live,' Alabbar says. The mall itself features as many restaurants, cinemas, galleries and family attractions as shops.

'You have to mix it up,' he says. The new Dubai Creek Harbour mall will feature high-tech augmented reality entertainment. 'Your kids, my kids are going to die for this. It's the most amazing entertainment system in the world and it's all because of this goddamn technology.' But Alabbar's myriad ventures are not just about cash. He wants to reshape the software – the people – of the Middle East as much as he is reshaping the hardware – the buildings and businesses. He aims to nurture Generation M, a new cadre of ambitious, young Muslim entrepreneurs and consumers who will cast off the religious and cultural shackles that have for so long held back the Middle East. 'When I started in business, I was doing it to run away from poverty,' he says. 'But as time has gone by and I've got comfortable, I've starting asking: "What are we doing for the young guys and young women? For our future?" It is our duty to present Generation M to the world – worldly, happy, positive, embracing all cultures and religions. No bad stories. Muslim, modern and relevant. I want to demonstrate to the world that we, as Arab people, are not the source of only bad news: we can create success.'

When you meet Alabbar in one of his vast homes – with the Ferrari in the garage, his $60m Bombardier Global 6000 jet a phone call away and a new rose gold Rolex on his wrist – it's tempting to see him as just A N Other Emirati of noble lineage who leveraged his gilded connections to hoover up the new opportunities in the fast-growing United Arab Emirates. But his line about escaping poverty is true. He grew up dirt poor, one of 13 children in a palm-leaf-roofed house with no electricity, near Dubai Creek, the ancient pearl-trading centre. His mother was a homemaker, his father a ship's captain. When the ruling sheikhs visited the area, 'I used to push my back to the wall,' Alabbar says.

'Now I speak to the Sheikh every other day.' He did well at school and won a UAE government scholarship to Seattle University, where he studied finance and business administration. After graduating in 1981, his first job was as a manager for the Central Bank of the UAE in Abu Dhabi. 'I got married and had my first child. But I was restless. I wanted to do more.' In 1987, the Dubai government posted him to Singapore for five years to run Al Khaleej, a government-backed investment outfit. 'Singapore's discipline woke me up. I liked it. I'm that type. I learnt to be positive, organised and not to hesitate. I learnt speed. I have no chairs in my meeting rooms. I like stand-up meetings.' Returning to Dubai in 1992, he created the Department of Economic Development and wrote the first 10-year strategic plan for the emirate as it began to diversify into transport, real estate, logistics and tourism. 'It was a time for change,' he says.

'I took on new government partners and brought in people who would work day and night, people who had pride in our city.' Alabbar left government to found Emaar in 1997, with $50m from his and his associates' savings. The government took a one-third stake in the firm in return for the allocation of prime commercial land to the company. As originally featured in the May 2017 issue of Wallpaper* (W*218) Not everything Alabbar touches turns to gold. He has lost hundreds of millions of dollars on investments in the US and Algeria. 'I made a few mistakes. I lost face,' he says. An electrical fault sent his 63-storey Address hotel in Downtown Dubai up in flames on New Year's Eve 2015-16. And his deal with Armani to open branded hotels in the Burj Khalifa and Milan has made rather more money for Armani than for him. But so much of what he has tried has worked that he has earned his status as the poster boy for modern Arabia. He chalks up his success to playing by his own rules. 'I am a maverick. I do strange things,' he says.

When rivals were taking on huge levels of debt in the go-go years between 2000 and 2008, he refused. 'I don't like banks, I don't like borrowing. I was in Asia during the 1997 crisis. I got hit right in the eyes. I was slaughtered. I can never forget that.' Alabbar's refusal to borrow heavily meant that, unlike Nakheel, Emaar didn't need a state-backed bail-out when the global financial crisis sent property prices in Dubai tumbling by 50 per cent. His iconoclastic streak extends to politics. He provoked a public spat with Sheikh Mohammed bin Rashid Al Maktoum, the ruler of Dubai, when he jetted off to Israel to try to cut deals to build homes in Palestinian territories. The UAE does not have diplomatic relations with Israel.

He also pushes the limits of 'taste and decency' in the Middle East. He welcomed Agent Provocateur into Dubai Mall although many locals regard its window displays as revolutionary at best, revolting at worst. When the store opened, one Emirati woman came in only to spit on a poster of a woman in stockings and suspenders. It is now one of Agent Provocateur's highest-grossing outlets globally. It is Alabbar's latest political move that has most surprised observers: he attended Donald Trump's inauguration in Washington DC in January. 'We have to watch this guy,' he admits. 'The ego is the problem.' But he thinks the US president's decision to focus attention on Muslims – largely through his clumsy attempts to ban travellers from some Muslim-majority countries from entering the US – could generate a positive outcome for Generation M.

'What's happening now will shake us. We need to sit down and talk. And it's happening. Americans are beginning to go to mosques to ask: can you tell me about this Islam? Jews and Muslims are marching together in America because they are all against anyone who does not respect the American way of life and the constitution. I am going to go to Donald Trump and kiss him on his head!' He sees business benefits, too. The harder it becomes for Muslims to travel to the US, the more they will opt to live and work in Dubai. 'If Muslims feel uncomfortable and insecure going to some places, if people say, "I don't want to go through the hassle about getting visas", then this is the place they go.' The more Dubai benefits, the more Generation M will benefit. If that's what happens, the joke will be on Trump. You get the feeling Alabbar will enjoy that.

As originally featured in the May 2017 issue of Wallpaper* (W*218)
INFORMATION
For more information, visit the Emaar wesbite (opens in new tab)
You might also like
Architects Directory alumni: Residence 22 by Dxb.lab

The Wallpaper* Architects Directory has turned 20. Conceived in 2000 as our index of emerging architectural talent, this annual listing of promising practices, has, over the years, spanned styles and continents; yet always championing the best and most exciting young studios and showcasing inspiring work with an emphasis on the residential realm. To mark the occasion, this summer, we are looking back at some of our over-500 alumni, to catch up about life and work since their participation and exclusively launch some of their latest completions. Dubai based Dxb.lab was first featured in Wallpaper* in the 2007 Architects Directory. Since then, the studio and its director, Khalid Al Najjar, have been going from strength to strength, completing a variety of projects of all scales and typologies; here we visit their latest housing scheme, Residence 22, in the city's Business Bay.

By Ellie Stathaki • Last updated
View More ▸