Miami's Urban Renaissance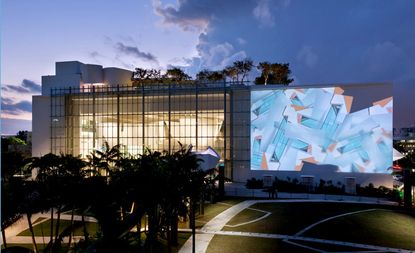 (Image credit: Frank Gehry)
New World Symphony
The pumped up Hip Hop that accompanies the Ferraris or SUVs cruising up and down Ocean Drive and Collins Avenue, has been joined by some more melodious sounds.
In a brand new building designed by Pritzker prize winning architect Frank Gehry - the New World Symphony is home to some of the top young classical musicians in the country. All of the members of the NWS's symphony orchestra are non-professional students aged between 20-30 years old, who have been selected for their talent from a series of country-wide 'American Idol' style auditions
In the tourist shop windows of Miami Beach rows and rows of brightly coloured T-shirts proclaim 'I'm in Miami Bitch'. A crude pun perhaps, but the sentiment is clear -- Miami rules.
Miami is a city that has always inspired pride and envy for its core offers of escapism, partying, sunshine and sex, but until recently the quality of its urban and cultural environment lagged some way behind. A highly suburban car-based city, Miami's centres had been dominated by sprawling surface car parking lots and with some exceptions Miami's contemporary architecture was nothing to write home about.
But now the city's credentials have been bolstered by a roster of fine new buildings, some fantastic public space and an array of cultural facilities with more in the pipeline. Given the quality and coherence of these elements, it does not seem overstated to describe what is happening as an 'urban renaissance'.
Examples are all around. The recently completed car-parking garage/ vertical piazza by Herzog and de Meuron and the New World Symphony concert hall by Frank Gehry effectively book-end and reinforce Lincoln Road mall, creating a fantastic modern space for shopping and people watching.
Adding to the cultural mix is a small but perfectly formed new arthouse cinema, the Miami Beach Cinematheque, which has just opened in a prominent new position. Up the road the recent South Pointe Park has created some great quality recreational space in what was once a no-go zone. And the cherry on SoBe's cake is 'Deco bike' a Velib-style bike share scheme that turns the area into a more amenable, pedestrian-friendly space.
Simultaneously over the Bay from South Beach, the previously rundown Wynwood is being reborn as a district of private art museums. The unspectacular urban fabric consisting of block upon block of low-rise warehouses and workshops is being revitalised through enormous works of street art. Wynwood extends the regeneration begun in the adjacent Design District at the start of the millennium and is also the spiritual home for Art Basel Miami, which rolls into town each December trailing gallerists, artists, assorted global media and hangers-on.
And there is more to come. Herzog de Meuron's second major building in the city, the Miami Art Museum (MAM) has just broken ground and is set to open in 2013. This will be joined the following year by the Grimshaw Architects-designed Science Museum, ultimately forming Museum Park, a cultural hub for the city in landscaped gardens by the water.
In the context of a worldwide economic recession, with the US economy in debt to the tune of $14 trillion and rising $1 million a minute, one might expect Miami's architects to be in a downbeat mood. Quite the opposite. All of them seem incredibly optimistic about the future of their city. The feeling is that at just over 100 years old the city has only just got into its swing. Miami, at the crossroads of North and South America and the Caribbean and a playground for all, seems set to become one of the great cities of the 21st Century.
'Wallcast' at the New World Symphony
The NWS's mission is to break down the barriers between the traditionally stuffy world of classical music and the public. And it seems to be working to incredible effect. Since it began its Saturday evening 'wallcasts', where the live performance in the auditorium is projected on the side of the building, the crowds that come to watch have been growing steadily. They now number an average of 2,000 people -- filling the adjacent West 8 designed park with picnic blankets and hampers.
1111 Lincoln Road
Miami's best building, Herzog and de Meuron's car parking garage provides an emphatic full stop at the west end of Lincoln Road mall. Developer Robert Wennett, the financial and conceptual force behind the project, moved to Miami from New York because he felt he sensed a 'cultural shift in the city, away from the suburban model'.
Cars have never been so magnificently accommodated with lofty, cathedral-like spaces soaring above them. In fact this building should be thought of less in terms of cars and more as a vertical continuation of Lincoln Road mall's public space. The great lesson to be learnt here is that with Miami's fantastic climate -- all you really need is some generous and well designed covered outdoor space and a multitude of activities can be accommodated all year round. 1111 has played host to numerous private parties and even weddings
Alchemist
Adding to the claim that 1111 Lincoln Road is something way beyond a mere parking garage is Alchemist -- a top of the line clothes and shoes boutique, located on the 5th floor of the building. Designed by Miami architect Rene Gonzalez, Alchemist is an ethereal counterpoint to the garage's exposed concrete, lined with mirrors, which catches the sky and the street below. The project was a 2011 Recipient of American Insitute of Architects Honor Awards for Interior Architecture
Lincoln Road mall
Recently added to by the 1111 garage to the west and the New World Center to the east, Lincoln Road mall is a fantastic example of a modern public space in its own right.
Conceived in the early 1960s by Miami's original star-chitect Morris Lapidus (designer of the nearby Fontainbleau hotel, among many other local projects), the mall sought to regenerate Lincoln Road's flagging commercial fortunes through closing it to traffic - as Lapidus said at the time 'a car never bought anything'.
The end result is a highly civilised, pedestrian shopping area, lined with trees and punctuated by Lapidus designed structures -- a dramatic cantilevering canopy used for performances, fountains, trellises for shading. Completed by its recent addition at its east and west ends, Lincoln Road mall is now firmly re-established as the heart of South Beach - hugely popular at all times of the day and night with people shopping eating and people watching
Raymond Jungles – Lincoln Road mall
The go-to landscape designer of choice in Miami at the moment, Raymond Jungles' work is everywhere – from the roof garden and environs of the New World Center to Allan Shulman's Soho Beach House. Here, simultaneous with the construction of the 1111 parking garage, Jungles has brought his magic to the end of Lincoln road – effectively extending and completing the mall begun by Morris Lapidus in the 1960s.
The result is a literal and thematic extension of Lincoln Road and a completely seamless join with the pre-existing mall. Jungles has extended the black and white striped motif, but changed the material from a painted tarmac found further up to a more durable stone mosaic. A mix of native Florida trees including some semi-deciduous offers seasonal variety and integrated naturalistic water features complete the impression of an 'urban glade'.
ArtCenter / Jacob Brillhart
The ArtCenter on Lincoln Road brings Miami's teeming artistic culture right in to the heart of Miami's tourist and commercial domain. Fully accessible to the passing shoppers, the ArtCenter is a menagerie of open studio spaces, used by working artists to create, display and sell their work. The Center also houses a small gallery with an incredibly well placed shopfront window, adding artistic culture to the mall's already rich mix.
'The Architecture of Drawing' is a recently completed joint exhibition at the ArtCenter by young Miami architect and academic Jacob Brillhart and New Orleans based architect Errol Barron. Featuring some beautiful hand drawings and paintings, the show advocated a reintroduction of architectural exploration through sketching and many examples of which were on display in the exhibition. Building on the success of the exhibition, Brillhart is currently working on a new book which will follow Le Corbusier's personal sketching tours around Europe and Japan
The Beach
In a town whose entire raison d'etre seems based on sexual frisson and checking each other out, perhaps the spiritual heart of Miami is the beach itself. Incredibly generous in scale -- surprisingly wide and extending the entire length of the Miami Beach peninsular, the beach might be said to be the foremost public space of Miami, which more recent additions -- New World Center Park, South Pointe Park, Lincoln Road mall - support and build on. As well as providing sun, sea and sand, the beach also plays host to many of the festivals and events that roll in to town each week -- Food and Drink, Winter Music, Art Basel, with huge purpose built tents which are erected on the sand.
South Beach's easterly streets such as Ocean Drive are replete with semi naked people having just come from the beach - adding to the unique character of the city. Meanwhile above the beach, small aeroplanes trawl back and forth towing abbreviated advertising like physical Twitter feeds.
South Pointe Park
The South end of Miami Beach's peninsular, south of 5th street, was until the 1990s a no-go area seemingly immune to the regeneration that was taking place in Miami's historic districts further north. Following a relaxation of the zoning laws in the area, a swathe of enormous new condominiums sprang up in the early 1990s which now form the backdrop to the recently completed South Pointe Park. This is another fantastic example of Miami's contemporary public space, much loved by local people walking their dogs, cycling and jogging along the promenade by the waters edge.
Cinematheque
Adding arthouse cinema to the range of cultural offerings, Miami Beach's new Cinematheque, like the New World Center, is a fantastic example of a private passion pushing through the creation of a project. The brainchild, heart and soul of local film enthusiast Dana Keith, the MBC builds on the success of the smaller original Cinematheque which was located round the corner in Espanola Way.
Occupying a space designed by Carl Fisher one of Miami's original property developers, but which more recently housed the city parking department offices, the new MBC has large floor to ceiling windows on three sides. Architect for the project Scott Weinkel, working with interior designer Jeffrey Barone, has ingeniously retained the existing glazing through the construction of a room within a room. The gradual drawing of the curtains at the beginning of a film forms an appropriately theatrical part of this delightful arts cinema experience
Miami Marine Stadium
Perhaps the second best building in Miami and certainly a forerunner for Herzog and de Meuron's 1111 Lincoln Road, the Miami Marine stadium was designed in 1963 by the architect Hilario Candela, a Cuban immigrant who was only 28 at the time. In its heyday the Marine Stadium used to be the setting for many power boat races and performances on an adjacent floating stage, but in the wake of Hurricane Andrew in 1992 the stadium fell in to its present state of disrepair and vandalism.
Recent initiatives are seeking to revitalise the building which still retains a tremendous power in its graffiti covered state. An organisation called Friends of Miami Marine Stadium has been established and April 2011 sees the closing date for an international ideas competition for a new floating stage, the results of which will be announced in early May
http://dawntown.org/competition/
Ballet Valet Garage, Arquitectonica
Miami Beach has been home to various multi storey parking garages with high profile designers in recent years. Carlos Zapata's Publix supermarket, Herzog de Meuron's 1111 Lincoln Road and much less obviously Frank Gehry's unusually modest mesh-clad garage behind the New World Center. But before these younger contenders arrived on the scene, the king of the Miami car parks was Arquitectonica's building at the corner of Collins Avenue and 7th Street.
A remarkable demonstration of how parking can be integrated in to a city context to the net benefit rather than detriment of the urban environment, the project involved the retention of existing historic facades at ground level and the insertion of a carpark structure behind and above which holds more than 1000 cars. Built in 1996 many years before Patrick Blanc's vertical gardens became internationally known, Arquitectonica's building demonstrates how well plants grow in Miami's sub-tropical climate.
Deco Bikes
It is often said that Miami, like Los Angeles, is a car-focused city. But times are changing and to usher in a leaner, greener and happier new era Miami has just introduced its brand new Velib-style bike share scheme -- Deco Bike.
Miami is only the third city in the United States to introduce such a scheme (behind Washington and Minneapolis) and hopes to further reinforce its credentials as one of the cleanest and least polluted in the US (as awarded by a 2008 Forbes survey)
Wynwood
Only a few of years ago, Wynwood was a rundown, possibly dangerous area consisting of block upon block of unremarkable single storey workshops and warehouses. Over the last few years however, building on the success of the neighbouring Design District, the area has become the spiritual home for the City's art community.
The visible expression of this new artistic leaning is the huge number of murals and street art that now line Wynwood's streets. Less conspicuously, behind these brightly painted walls, galleries and private museums occupy the previously neglected buildings - many of them with little more than intercoms identifying their presence. Perhaps because of this low-key occupation, the area is yet to feel highly populated -- generally it's you and the street art and not a soul around. However, this feeling changes every 2nd Saturday in the month when the doors to the galleries are thrown open and an arty crowd cruises from gallery to gallery, thronging Wynwood's normally deserted streets
Wynwood Walls and Kitchen
Pioneers in an otherwise still sparsely populated area, Wynwood Kitchen and the neighbouring Joey's Café have gone where others feared to tread, creating key destinations at the heart of this fledgling artistic area.
The owner of the two venues is Joey Goldman, son of property magnate Tony Goldman who was previously 'a major force in the revival of SoHo (New York) and South Beach (Miami)' according to a recent New York Times article. The paper reports that Tony Goldman has spent some $35M investing in 'about two dozen' buildings in Wynwood. And they are not alone real estate brokers are going deeper and deeper into Wynwood's hinterland, buying graffiti covered wrecks and talking passionately about the beauty of street art.
Behind Wynwood Kitchen and Joey's, Wynwood Walls is an open air art park which was launched as part of 2009's Art Basel week. It features vivid huge scale murals by the artists Shepard Fairey, Jim Drain & Ara Peterson, Ben Jones and Clare Rojas amongst others
http://www.thewynwoodwalls.com/home.html
Photography Saskia Green
Leonard Horowitz
Before Wynwood Walls, Miami had a track record of revitalising tired architecture through the application of coloured paint.
Back in the late 1970s and early 1980s most of South Beach was 'beige and white' and had fallen out of fashion - compare the shots of Ocean Drive in the film Scarface with the same places today. Distressed at the fading Art Deco buildings the industrial designer Leonard Horowitz, co-founded the Miami Design Preservation League and devised a 40 colour palette that was used to renovate the fading art deco buildings of South Beach. 'I added the icing to those wonderful cakes,' he said
Rene Gonzalez - CIFO
Already highlighted for his Alchemist store which forms part of 1111 Lincoln Road, Rene Gonzalez is one of the Miami's best architects. Highly modern in approach, immaculately detailed and with great quality of presentation, Gonzalez's projects are also notable for the variety of approaches that are employed – 'I want to create a memorable experience' as he puts it.
For the Cisneros Fontanals Art Foundation (CIFO) Gonzalez, renovated an existing rundown two-storey warehouse just south of Wynwood on 11th street. The front façade of the building is transformed through the use of an enormous pixelated graphic of a bamboo forest which was specially composed and arranged in Gonzalez's studio and realised in mosaic. The result is a spectacular transformation, bringing a lush virtual garden to one of Miami's grittiest back streets
Rene Gonzalez - Indian Creek
Indian Creek is one of Miami's various private islands and home to some of the most expensive real estate in Florida. With an access bridge from North Beach watched over by a security guard and gate, the 35 or so properties on the island enjoy the additional security of their own private police force. The island's interior is taken up with a large central golf course complete with Country Club, while a variety of mansions inhabit the island's outer perimeter at the waters edge.
One of these properties is a brand new house by Renee Gonzalez, built for a property developer which is about to go on the market for a colossal $60M. If sold it will become the most expensive house in Florida. Despite this astronomical price tag (which often ensures that taste goes out the window) the house is beautifully realised with exquisite finishes throughout
Soho Beach House -- Allan Shulman
Soho House is well known in London for its successful resurrection of what had previously seemed to be an outdated concept -- the private members club. Following the success of the Soho House group in the UK, the brand has moved to the States with Soho Houses in New York and LA and now Soho Beach House in Miami.
The project was undertaken by Miami architect and writer Allan Shulman and his company Shulman + Associates. It required the sensitive renovation of an existing historic building, combined with the creation of a new-build tower structure - what Shulman refers to as the original building's 'alter ego'.
The rooftop hat -- a horizontal concrete plate raised above the penthouse - is as Shulman calls it a type of 'civic art' responding to Miami's long tradition of urban millinery -- see for example the Delano hotel, or more recently (and closely) the Shore Club hotel by UK architect David Chipperfield.
http://www.sohobeachhouse.com/
Allan Shulman -- Jessy Nite mural
The crossover of architecture and art is of key importance to Miami with examples found throughout its history. Building on this lineage Shulman + Associates has in recent years commissioned an artist to decorate their offices to coincide with the annual Art Basel art show.
This year's work 'Friends & Lovers' was created by the highly talented local artist/ graphic designer Jessy Nite - an extension of a show that was running simultaneously in Bangkok. As is typical with her work, Friends & Lovers featured a bold array of graphic and typographic motifs, as it describes in her press release: 'Ms. Nite works across different mediums to emphasize color, line and typography. Her work is the view through rainbow colored glasses that turn vice, gore and greed into light and fluffy fun'
Icon, Brickell
Reminiscent of the scene at the end of Wall Street 2 when a huge opulent party is held in New York's Metropolitan Musuem on the eve of the global economic collapse, the Icon hotel and apartment building in Brickell feels like something from a bygone era.
Supported by a forest of bizarre copper and brass created by designer Philippe Starck, Icon contains some 1500 apartments in three 50 storey towers, a luxury hotel, a rooftop Olympic size swimming pool surrounded by olive trees, spa, movie lounge, poker room etc. etc. Inside, the 3 towers and their interconnecting 15 storey base are fully Starckified with all the designer's favourite design tropes – gauzey curtains, coloured glass, Old master paintings, vast mirrors, wardrobes etc. all of which are still appealing if perhaps not so inventive all these years after the Delano. Meanwhile the architecture by Arquitectonica is elegantly handled with the large tower masses expressed as smaller subdivided volumes.
Developers Related reportedly spent $1 billion on the project. Starck's ground floors columns themselves are said to have cost $200,000 each – and there look to be about 50 of them – so that's $10M without even going inside the building. Not surprisingly given these eye-watering sums and the fact the job completed in 2008 at the worst possible economic moment, the company was forced to turn their property over to the banks - like so many other property speculators in Miami (there have been more foreclosures here than anywhere else in the United States). That said, the apartments are now selling again - 80% to buyers from South America
http://www.iconbrickell.com/home.php
R&R Studio Living Room (before and after)
R&R Studio, run by partners Roberto Behar and Rosario Marquardt, is perhaps the most playful and imaginative architecture office in Miami.
Behar is a graduate from Peter Eisenman's highly select Institute for Architecture and Urban Studies which operated in New York between 1981 and 1984. In its time and after the Institute had a huge influence on architectural thinking bringing together a who's who list of architectural/ design players - Aldo Rossi, Tony Vidler, Kenneth Frampton, Alan Colquhoun, Leon Krier amongst others. Massimo Vinnelli did the graphic design for exhibitions and books and Rem Koolhaas used it as his base to write 'Delirious New York'.
Now teaching himself at the University of Miami, Behar and Marquardt's work span a huge range of approaches from art to architecture that 'work with shared memories'.
Most famous of their projects is the Living Room which features a gargantuan sofa, lamp and wallpaper pattern. Located on the edge of the Design District, the project has been an icon for Miami's regeneration since the late 90s. But where once it was fresh and pristine in the boom years, now, in line with the huge number of foreclosures in Miami, the Living Room has been fenced off and is starting to attract graffiti and fly-posting. As Behar happily points out, the Living Room is a 'cultural barometer' for the city
R&R – Star of Miami
R&R Studio are, like all the architects I spoke to, highly optimistic about the future of Miami. In fact Behar goes so far as to describe Miami as the 21st century's world capital, in the same way that New York was in the 20th century or London was in the 19th century. 'All the elements are here' he says.
This proposal for a new island in Biscayne Bay, will create an 'aerial monument' for Miami, similar in nature to the Statue of Liberty in New York. Miami has the highest percentage of residents who were born internationally of anywhere in the US. Just as the Statue of Liberty would give hope and a sense of arrival for immigrants arriving by ship to New York in the early 20th century, so will the Star of Miami do for those arriving by plane in the 21st C. A symbol of guidance and hope, an optimistic monument for a young city
Oppenheim Architects -- Ice 2
As Roberto Behar from R&R Studio points out, cinema is almost exactly the same age as Miami itself and the two have grown up hand in hand.
Miami is also one of the most photogenic modern American cities - as the work of 'Miami Vice' director Michael Mann testifies - and the city, like cinema, retains a taste for escapism, fantasy and spectacle. Perhaps the architect who is most closely attuned to this cinematic context is Chad Oppenheim, whose work and incredible imagery has brought him from Miami to the world stage.
Perhaps not surprisingly given Oppenheim's visual sensibility, his own house was included in Mann's 2006 version of Miami Vice. Meanwhile visualisations such as this one for the condominium 'Ice 2' promise a fantasy mix of light-filled Modernism and lifestyle -- the ultimate Miami dream
Oppenheim -- 10 Museum Park
Proving that they can bring their seductive visuals in to reality, Oppenheim Architecture's 10 Museum Park is a 50 storey condominium tower with retail base completed in 2007 just as the world wide economic crisis was beginning to bite.
Elegantly slender, with intricate interlocking double height units, the condominium is now located in an absolutely prime position directly opposite the new museum park which will house the Miami Art Museum and Science Museum.
In fact Oppenheim himself was instrumental in spotting the potential for the site, which he correctly observed was at the heart of the city and opposite a possible site for the new Miami art and science museums. In the symbiotic way in which things work in Miami, he says that the construction of the tower and its branding as Museum Park actually helped to reinforce the idea that this would be the location for the new museums -- sometime before this was definitely confirmed. Blazing a trail, 10 Museum Park originally stood alone on the site, but is now surrounded by other less elegant condo towers.
Oppenheim -- Park Avenue
Oppenheim's work explores a range of housing typologies -- and there are many examples of this exploration dotted around South Beach. This project near the Bass Museum, might have been alternately divided in to 20 smaller units, but instead is for 2 large luxury town houses complete with private rooftop pools.
Of particular interest is the perforated white cladding to the houses which references the decoration of the neighbouring historic building, as well as the tree lined canal behind the property
Kenneth Treister - Holocaust
Miami's answer to Antoni Gaudi, Kenneth Treister is one of Miami's most creative architects with an incredible body of varied and imaginative works. Like Gaudi, Treister's work bridges the gap between art and architecture creating highly wrought expressionist projects, packed with sculptural detail that are often completely unique and memorable.
His most famous work, Miami's Holocaust Memorial is an extremely powerful monument, with a carefully orchestrated sequence of views and spaces leading to an appropriately harrowing central plaza
Kenneth Treister -- Gumenick Chapel, Temple Israel
One of Treister's more well known projects (featuring in the wallpaper* guide to Miami amongst other places) the Gumenick chapel of Temple Israel is located on the edge of the regenerating Wynwood area. An extension to the existing synagogue complex, the chapel occupies a long and thin sliver of land, to the side of the main building. Behind the highly sculptural concrete-sprayed façade is a cave-like chapel space lit by blue and purple stained glass and highly expressive copper chandeliers
Kenneth Treister – Mayfair Hotel / World of Mayfair
Located in Coconut Grove, a bit further away from Miami Beach / Downtown and less well known, Kenneth Treister's Mayfair complex is another extraordinary collection of buildings which includes a hotel and shopping mall.
All the buildings are highly expressive and decorated, but the inner courtyard of the Mayfair hotel is particularly spectacular. Accessed through an ornate semi circular wooden door the hotel opens up to an incredibly lush series of stepping terraces which interlock and connect at every level - evoking thoughts of hanging gardens. The architect points out that the hotel 'was 'green' before it was in fashion, as all good tropical architecture should be… it is not air conditioned but cooled by fans and the natural flow of air in the courts'. An engraved message on the side of the building reads 'Every petal of every flower and every rich tone of wood celebrates our song'
Terence Riley Courtyard House
Ex director of both the Miami Art Museum (MAM) and the Museum of Modern Art (MoMA) in New York, Terence Riley is an architect based in Miami. At MoMA, Riley was responsible for commissioning the relatively unknown Japanese architect Yoshio Taniguchi for the renovation and expansion of the museum. In 2005 he left MoMA to become director of MAM and led the museum in the selection of Herzog and de Meuron for their new home. Following 5 years of fulltime commitment to MAM, Riley recently stepped down to concentrate on his own architectural work - he is a partner at Miami and New York based firm Keenen Riley Architects.
Riley's own house, located just to the north of the Design District is a reworking of Mies de Rohe's courtyard house typology. Mies never realised his designs, and the courtyard house had remained as a paper project until Riley's decision to construct.
The house takes the form of two blocks (kitchen/ living/ dining in one, bedroom and bathroom in the other) surrounded by a high wall and separated by a central courtyard which contains a swimming pool. It is completely inward looking, which allows both blocks to be stay fully opened to the central courtyard with no issues of security.
Outside the front garden and high external walls are beautifully overgrown, the landscaping designed by the talented and ubiquitous Raymond Jungles
Inventory - Objects of Desire Exhibition
Conceived of and curated by Thais Fontenelle, manager of one of the Design District's furniture design stores, Inventory is a new arts collective dedicated to highlighting the work of young and unknown Miami designers. Still in its early days, Fontenelle also paid for the exhibition out of her own pocket (though the exhibition space was donated by Dacra) - a commendable approach and yet another example of private passion bringing culture in to the public domain in Miami.
Inventory's inaugural show 'Objects of Desire' featured a selection of fantastic work by the designers. Particularly memorable was the 'Fluorescent alphabet' by local branding and design consultant Lemon Yellow, who also did the graphic design for the show and catalogue
http://www.collectiveinventory.com/
http://www.collectiveinventory.com/
DASH School -- Design District
Raising the next generation of Miami's design elite -- the Design and Architecture Senior High (DASH) school is perfectly located right on the edge of the Design District. The main body of the school is housed in a building retrofitted by Arquitectonica in 1981 and subsequently converted for school use in 1989. Rising iconically over the school's playground/ piazza are two sculptures by R&R Studio entitled 'Kids', intended as a more approachable version of column-based statues such as Nelson's Column in London. To top it all off the school grounds are enclosed by a beautifully undulating fence and gate by international designer Marc Newson.
Though it is very competitive to get in to, this is a public school in the American sense -- it's free - and with its pupils becoming design literate at such a young age, the outlook for Miami's creative industries looks very rosy indeed
The Patricia and Phillip Frost Museum of Science (the name was recently changed after an incredible single donation of $35M from the local philanthropists) will add science to Miami's design and cultural landscape. Designed by British firm Grimshaw Architects, the 250,000 square foot complex is intended to act as a demonstration of ecological and sustainability principles and will feature a 600,000 gallon aquarium, state-of-the-art planetarium, wildlife and interactive science exhibits. The new museum is to follow on one year after the adjacent Miami Art Museum - scheduled to open in 2014
Miami Arts Museum
Due to open in 2013, the Miami Art Museum (MAM) will be Herzog and de Meuron's second major building in Miami, following after the 1111 Lincoln Road parking garage.
At first glance, the proposed museum looks to be more traditionally Modernist in conception than some of their recent more 'iconic' work -- such as the Birds Nest Olympic stadium, De Young museum in San Francisco or even 1111 itself. Ex MAM director Terence Riley confirms that at the time of developing the design in 2006, the concept of building an 'icon' ('a hangover from the hysteria surrounding the Millennium' as Riley puts it) was something everyone was very conscious of. In the end though, early more ostentatious proposals were rejected in favour of a more pragmatic response to the climate, programme and available space.
Key to the project is the extensive roof which will provide a large amount of sheltered external space, taking advantage of Miami's subtropical climate. In this respect the project builds on the lessons learnt from 1111 Lincoln Road - which is now used for a multitude of activities beyond mere car park. Exposed concrete will be used throughout, as at 1111, though here the external spaces will be softened through the extensive use of hydroponic planting. Inside the galleries will allow free flowing interconnection of space more akin to a Hypertext arrangement than a traditional enfilade of spaces.
This is a hugely exciting project which together with the Science Museum and park will form a key waterside destination at the very heart of Miami - ushering in the next 100 years for this fantastic city
Image © Herzog & de Meuron, visualization Artefactorylab