Few of Maxime Old's glorious interiors remain, save two well-preserved 1960s masterpieces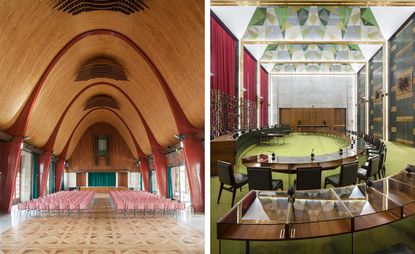 (Image credit: Tomáš Souček )
Last year, Paris-based auction house Artcurial sold several pieces of furniture from the reclaimed interior of the Port Autonome de Marseille offices in the French capital. The 1970s project was one of the last remaining complete works by French architect and designer Maxime Old (1910-91). His unique pieces of furniture, usually bespoke creations for specific projects or exhibitions, only occasionally surface at auction. His public and private interiors – which demonstrate just as much artistic bravura as those of his more famous contemporaries, such as Jean Royère, Jacques Adnet and André Arbus – are gradually disappearing. Fortunately, Old's biggest interior projects, all in Rouen, remain intact.

Old was a master of design, specialising in custommade furniture objects and creating many public and private spaces during his long career. He was influenced by the tradition of the French masters of carpentry, the ébénistes. In the 1930s, he studied at the prestigious École Boulle and went on to learn his craft from Jacques-Émile Ruhlmann, an iconic figure on the Parisian art deco scene. In the late 1930s, Old began to design his own interior objects and exhibit at shows such as the Salon des Arts Ménagers and the Salon des Artistes et Décorateurs.

Each item of furniture was an original, usually created as part of a wider interior design concept. In the post-war era, interior design became a major component of Old's work. Today, the designer's creative legacy is in the hands of his son, Olivier, who grew up with an intimate knowledge of Old's skill. 'I remember my father as being a genuine father, taking great care of me and being a great artist at the same time. We shared a lot of time together when I was young,' he tells me on a tour of some of Old's forgotten interior masterpieces. 'I spent each Thursday at his design office and his workshop. When I was 25, I spent a huge amount of time with him, collaborating with him and learning to fully understand his work.'
In the 1950s, Old joined a group of French decorators who worked on dozens of projects in North Africa. In Casablanca, he designed the elegant interiors of Hotel Marhaba. In Tunisia, he collaborated with fellow designer Raphaël Raffel to furnish the palace of Tunisian president Habib Bourguiba, as splendid as a modernist version of Versailles (Old was in charge of the public spaces). He created similarly splendid interiors for ocean liners. In 1960, he was commissioned to design the first-class grand salon of the SS France – an ideal showcase for Old's haute couture approach to interior architecture. 'His works are well recognised by auctions, galleries and collectors today. But his prices are not what they should be because the number of pieces on the market is too small,' says Olivier, who frequently writes about his father's work, as well as authenticating his creations and offering reproductions of Old's original designs, including the collection of chairs from the SS France.

Old did his most significant work in Rouen. The reconstruction of the city after the Second World War, led by architect Jacques Gréber, attracted some of the greatest French artists of the time. In 1960, a project began to create a new home for the Council Hall, including the commission of interiors and furnishings. Space was found inside a historical monument, the former monks' dormitory in the Saint-Ouen Abbey. Dr Robert Rambert, Rouen's deputy mayor in charge of culture and patrimony, had been familiar with Old's work since 1954, when he had bought some of the designer's office furniture exhibited at the Salon des Arts Ménagers. Rambert recommended Old to the city council to decorate the Council Hall, as well as another important public space, the Halle aux Toiles cultural and congress centre.

The Council Hall, which was inaugurated in 1964, is Old's most striking interior. The walls are lined with laminated plates of different colours – a device often used in his furniture designs to create a rich mosaic of surfaces, tones and reflections. Into these walls Old incorporated a collection of bronze relief panels by sculptor Jean-Pierre Demarchi, which illustrate the history of Rouen. Custom-made chairs, tables and vitrines are still in use today. This impressive interior is crowned by a breathtaking abstract ceiling, made of painted sheets of expanded metal. Overlapping and backlit perforated metal plates in diamond shapes create a luminescent effect. This interior art installation was created by Old and produced by celebrated visual artist Raymond Subes, a specialist in metalwork since the art deco period.
Old's other key project in the city, the Halle aux Toiles, had been reconstructed by the architects Raymond Bardé and Henri Jullien, after being almost completely destroyed during the Second World War. The main congress hall on the second floor is dominated by an impressive vaulted ceiling, recalling Norman drakkar boats as well as the cloth of the merchants who created the wealth of Rouen. Old's mastery of detail is demonstrated by the highly refined metalwork. Glass doors double as moving constructivist sculptures, framing colourful abstract and figurative frescoes illustrating the optimism of the post-war reconstruction.

The monumental staircase, commissioned by Old and created by Subes, is formed by massive pillars painted in a distinctive glossy red. This vibrant colour complements the green-painted details of the handrail, brass fittings and glass panels. Old's interior concept also includes artworks by painters and sculptors including Jean-Pierre Demarchi, Robert Couturier and René Collamarini, while Robert Savary created the ceramic decorative panels. 'My father hated routine. His projects were always based on play between function, materials and techniques,' says Olivier. 'The projects in Rouen are the best examples of his interior design. I am very happy that they have been preserved carefully and restored when needed.' Luckily, the city council shares Olivier's appreciation of these modern masterpieces. Classified as historical monuments, both spaces are open to the public, allowing anyone to admire two of the few surviving projects from this heroic period of French decorative design.

As originally featured in the May 2017 issue of Wallpaper* (W*218)
INFORMATION
For more information, visit the Maxime Old website
Receive our daily digest of inspiration, escapism and design stories from around the world direct to your inbox