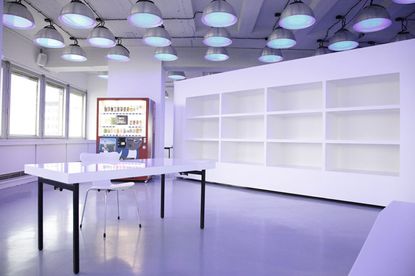 (Image credit: press)
The city of Berlin's 'international creative hub' label may sound like a PR exercise but it really is packed with the likes of Danish poets, Japanese dancers, American authors, Portuguese photographers, Icelandic artists, Australian graphic designers and innumerable others who have all settled here, hoping to take advantage of a certain je ne sais quoi atmosphere and cheap rents.
And where there is a high concentration of creatives, there is also a metalevel of event managers, sponsors and PR specialists seeking to tap into, collaborate with and promote their talents. This mix helps make for a broad and eclectic range of events, parties, festivals, launches and happenings, which in turn make Berlin such an entertaining city for its residents and visitors - and a magnet for more creatives.
A new platform to encourage just such a mix had its private launch this month on the 9th floor of a 1970s GDR high-rise at Alexanderplatz, a short elevator ride down from the city's famous 'Weekend' club. 'MADE' is a 500 sq metre space designed to host creative collaborations. The aim, say the project's main organisers and curators Tadi Rock ('pop art' artist) and Nico Zeh (marketing strategist) is for invited creatives to 'step outside their comfort zones and work with people from other genres to create something they have never done before'.
Thanks to the support of the Pernod Ricard Group, artists invited to work here will be given use of the MADE space as both a studio and presentation venue for set periods of time. Cross-disciplinary collaboration is particularly encouraged: musicians with artists, poets with fashion designers, DJs with dancers and so on.
Bavarian-born architect, Alexis Dornier (opens in new tab) (formerly with Asymptote and OMA in New York), has designed MADE to be a clever folding flexible space: it has six giant movable walls and custom-made modular furniture, as well as a system of 225 individual LED hybrid ceiling lights that can be individually controlled to vary colour, mood and focus of attention. So whatever collaborative concoctions the guest creatives and Neu-Berliners throw at it, the space is 'made' to cope in a very attractive manner.
ADDRESS
MADE
Haus des Reisens
Alexanderstrasse 7
10178 Berlin