London's residential developments 2015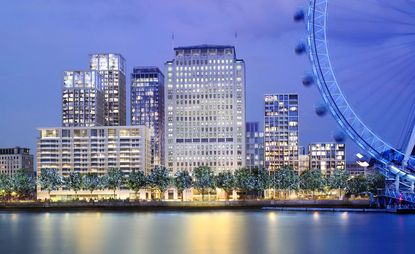 (Image credit: TBC)
Wallpaper* Newsletter
Receive our daily digest of inspiration, escapism and design stories from around the world direct to your inbox
Thank you for signing up to Wallpaper. You will receive a verification email shortly.
There was a problem. Please refresh the page and try again.
Southbank Place
A new central London development has just been announced by the Canary Wharf Group and Qatari Diar. Southbank Place launches today its registrations of interest to UK buyers, while the sales launch will follow in September. The project comprises seven new buildings, including a striking 868 residential properties. The mixed use development will also feature retail, hospitality and public spaces. Several high profile architects are involved in the designs, including Squire & Partners, Kohn Pederson Fox, Patel Taylor, Stanton Williams, GRID and Townshend Landscape, while interiors will be created by Goddard Littlefair and Johnson Naylor. Framing the existing Shell Tower, the development sits at the heart of London's South Bank - a strategic location for culture, work and shopping.
The army of cranes dotting London's skyline almost makes the financial crisis seem like a distant memory. The capital has always been a city on the move and now, in response to its growing population and subsequent housing needs, the city seems to be in the midst of a residential (and not only) construction boom. London is growing.

Whole new areas are being transformed to the west, east, north, south and central, with large chunks of the city's formerly neglected fabric being taken on and converted into glossy new homes. Some of the city's most high profile developers, such as Land Securities, Native Land, Ballymore, the St James Group, the Canary Wharf Group and Argent are all in the game.
See the residential developments set to reshape London's skyline

The Battersea and Nine Elms developments are prime examples, covering over 200 hectares of the city's South Bank and including the revamp and repurposing of the historical power station, as well as new homes by the likes of Frank Gehry, Foster + Partners and Rogers Stirk Harbour + Partners.

More centrally, parts of Kings Cross may appear almost finished, but there is a lot more coming up in housing, office and outside space. Victoria is another part of the heart of London experiencing intense growth, with major commercial, as well as residential complexes currently on the go by architects such as Patrick Lynch.

Meanwhile, East London is getting a key luxury high-rise offering in the shape of Manhattan Lofts Gardens in Stratford; new luxury towers are popping up around the City Road Basin (by none other than UNStudio, Foster + Partners and SOM); and even further east, whole areas like the Royal Docks and the Greenwich Peninsula have turned into vast building sites, aiming to create brand new neighbourhoods for Londoners.

Derwent London, a developer mostly working with commercial space until now, has joined in with its very first residential development about to receive its first inhabitants. The Queens at Bayswater, designed by Stiff and Trevillion is a beautifully redeveloped old cinema, about to set new standards for the area's housing stock. The Saint Martins Lofts development on Charing Cross Road is another luxury residential development springing out of a London landmark; its 13 apartments were created out of the capital's iconic former Central Saint Martins building.

Here, we tour a selection of London's key upcoming residential developments, set to change the face of the capital.
Dollar Bay

Work has started on site for the Dollar Bay development by SimpsonHaugh and Partners in Canary Wharf. The project is for Mount Anvil, who has been awarded Developer of the Year for 2015, and Citystyle Homes. The tower's striking design revolves around two crystalline forms bound together by a central spine. The glass clad facade creates a dynamic rippling effect. The tower, situated opposite the O2, spans 31 storeys and includes 121 residential apartments, retail units, a gym and a private garden for the residents.
Battersea Power Station

One of London's largest developments, the much-loved Battersea Power Station and its surrounding area, is in a state of transformation. The mixed use scheme will include retail, office and hospitality as well as plenty of residential space in its 42-acre, three-phase development. Phase 1 will be ready in 2016, while full completion is expected in 2025. The Power Station itself is redesigned into a shopping and residential complex and even more is planned. An all-star line-up of architects is contributing to the scheme, including Gehry Partners, Foster + Partners, Wilkinson Eyre, Rafael Viñoly, SimpsonHaugh and Partners and dRMM. Michaelis Boyd is working on the Power Station's interiors.
Aldgate Place

This large-scale development in the heart of Aldgate, between Shoreditch and the Square Mile, is designed by architects Allies and Morrison. The complex includes 313 private apartments ranging in size and three- and four-bedroom duplexes set within its three residential towers, as well as a shorter nine-storey block. Landscape architects Townshed will lead the design of the gardens and open spaces. The project is due for completion in March 2018.
Canaletto

Scheduled to finish in 2015, Canaletto is set to become one of the first major new properties to complete on the City Road Basin. The distinctive design, featuring a unique curved facade made of aluminium and glass, has been created by Ben van Berkel and UNStudio. The 31-storey tower on the banks of the Regent Canal contains 190 apartments ranging from studios to large three bedroom premier units and a penthouse.
Newfoundland

One of the new additions to Canary Wharf's growing portfolio, the Newfoundland tower will add much needed residential space to the 97-acre estate. Designed by architecture practice Horden Cherry Lee, the project will span 50 floors and house 560 apartments. Offering some of the best views in London, this high rise will be ready to receive its first residents in 2017.
Canary Wharf extension

Extending Canary Wharf to the east of the existing Estate (in the area formerly known as Wood Wharf), this new area has been master planned to provide a new residential, mixed use, waterside community. The architects involved include Herzog & de Meuron, Stanton Williams, Allies and Morrison, Grid Architects, KPF, Darling Associates, Patel Taylor and Wirtz International.
Chelsea Waterfront: Lots Road

Designed by Farrells, this major residential development is situated in Chelsea, on the north side of the Thames. The iconic Lots Road Power Station is included in the scheme and will be converted into residences. The project includes two towers of 37 and 25 storeys, while low rise apartments, located on the river's edge will be surrounded by landscaped gardens. Completion is set for 2018.

Cheyne Terrace

A joint venture between Native Land and Grosvenor, and designed by MSMR Architects, Cheyne Terrace is located in the heart of Chelsea. The design features a characteristic red stone facade, which pays fitting homage to the surrounding area's style. The 26 modern apartments included have been thoughtfully designed by Collet-Zarzycki to suit the needs of both families and professionals. Final touches for the new owners are being put as we speak.
Greenwich Peninsula: The Lighterman

Set for completion in 2017, this 24-storey residential tower developed by CBRE and Savills includes 102 new apartments and will be one of the first projects to complete in the major Greenwich Peninsula development in Southeast London. The building has been designed by CJCT, whilst interior design has been led by Conran & Partners. A three-storey glazed cube sits atop the tower, illuminating views of London and referencing the Peninsula's industrial heritage.
Greenwich Peninsula: Cable and Roper

Also part of the Greenwich Peninsula master plan, this residential development comprises of a ten-storey and a nine-storey building, offering a range of living spaces. Architects Jestico + Whiles propose opposing personalities for the two buildings, which will be completed in stages. The Cable, due for completion in summer 2015, is conceived as a lighter form, whilst the Roper, due for completion in 2017, is perceived as a 'tougher'-looking building. Renowned practice Manser is responsible for the interior design of both.
King's Cross: The Plimsoll Building

David Morley Architects reference the Victorian industrial heritage of King's Cross in their new 13-storey Plimsoll Building. The residence, set alongside Regent's Canal and overlooking Gasholder No 8, features a range of luxury homes as well as a private garden on the second floor designed by Dan Pearson Studio. Two schools are also included within the complex. Full completion is slated for summer 2015.
Kings Cross: Tapestry

The residential complex by award-winning architect Niall McLaughlin and his team is located on the waterside of Regent's Canal, alongside St Pancras lock and overlooking Gasholder No 8. Offering a chance for waterside living in central London with breathtaking views over the city and the canal, the building is due for completion in late 2015. The structure will include a private landscaped garden sky square designed by renowned landscape design practice Dan Pearson Studio.
Kings Gate

Located within Victoria's regeneration zone, Kings Gate forms part of a series of new developments in the area by Land Securities. Award-winning architect Patrick Lynch created a design influenced in equal parts by the cultural wealth of the Italian Renaissance and London's own iconic landmarks.
Lexicon

Soon to be the tallest tower in Islington, the striking Lexicon is designed by SOM. The project will offer 307 homes, 200 of which will be private and the remaining affordable housing. The development is located on the City Road Basin, on the crossroads between Angel, Shoreditch, Clerkenwell and Farringdon and is enveloped by a slender glass facade offering long city views. Completion of the tower is set for 2015.
Lillie Square

Forming part of Sir Terry Farrell's master plan for Earls Court, Lillie Square is one of the area's significant new residential projects, scheduled to complete in stages in 2016. The architects, Paul Davis + Partners, have drawn inspiration from the architectural heritage of the surrounding area to provide 808 new homes ranging from one-bedroom apartments to penthouses. The architects worked closely with landscape gardener Andy Sturgeon, as half of the project is devoted to green, open spaces.
London Dock

Placed moments away from Tower Bridge, Tower of London, the City and St Katharine Docks, the new London Dock development blends city living with London's iconic riverside features. The complex is composed of new buildings and public squares master-planned by Patel Taylor architects. First to complete will be Admiral Wharf (due in 2017), which will include residences with interior design overseen by studio 1508.
Manhattan Loft Gardens

Located in the heart of Stratford, the 42-storey cantilevered residential tower will be East London's latest luxury high-rise residential offering. Due for completion in 2018, the project comprises a combination of residential elements as well as a hotel, restaurants and sky gardens. The scheme's all-star design team includes SOM architects, interiors by Studio KO and gardens by Martha Schwartz.
Embassy Gardens

By the end of next year, a brand new riverside neighbourhood developed by the Ballymore Group will be up and running at the heart of Nine Elms. The area's master plan architect, Sir Terry Farrell oversees the design of over 2000 homes, landscaped gardens, a boutique hotel and retail space. Within it, Embassy Gardens, designed by renowned architecture studios Allford Hall Monaghan Morris, Feilden Clegg Bradley and Arup, is a mixed-use development that will bring together a taste of New York's meatpacking district and London's Victorian and Edwardian mansion blocks.
Merano Residences

Rogers Stirk Harbour + Partners also contribute to the Nine Elms master plan. Their slender Merano Residences is a three-stepped building ranging from 14-28 storeys in height with views towards the Houses of Parliament. Upon full completion in autumn 2017, the development will offer 40 private residences and several affordable housing units.
Riverlight

The South Bank riverfront will soon welcome one more Rogers Stirk Harbour + Partners creation, in the form of Riverlight's six contemporary residential pavilions. Due for completion in 2017, this development is also part of the Nine Elms master plan. The volumes reach 20 storeys high and feature glazed facades. The complex includes over 800 homes as well as a private residents' club.
The Corniche

One of Foster + Partners' latest London residential projects, The Corniche comprises a composition of mixed-use buildings that provide breathtaking views on the Houses of Parliament and the London Eye. The project, developed by the St James group, combines homes, offices and commercial space and is due for completion in autumn 2017.
Nine Elms Vista

Nine Elms Vista is one of the latest projects in the area to have been granted planning consent and is set to shortly begin development. The vibrant mixed-use development, led by architect Scott Brownrigg, benefits from panoramic views of Battersea Park and extensive views of the iconic soon-to-be-redeveloped Battersea Power Station. By 2017, this project's range of housing, office, retail and green spaces will make for a significant contribution to the Nine Elms master plan.
One Blackfriars

Created by SimpsonHaugh and Partners One Blackfriars' impressive height (reaching 170m) will undoubtedly form one of London's new landmarks, standing tall by the river on the South Bank. The glass-clad tower allows for uninterrupted views of St Paul's Cathedral and the City of London. By late 2017, the development will house luxury homes with interiors crafted by renowned designer Tara Bernerd & Partners.
One Tower Bridge

A development of nine different residential blocks, One Tower Bridge is a design by Squire + Partners, located a stone's throw from the City of London and the Tower of London. The large-scale complex is due for completion in 2016. Each of the nine blocks is slight different in character, featuring interior design by Darling Associates and United Design Partnership.
Principal Tower

Upon completion, Principal Tower will reach 175m in height, making this high-rise one the tallest residential buildings in Central London. Respecting the local area's history and character, Foster + Partners has been in charge of both interiors and exteriors. This will be the firm's first residential building in London to complete (expected in 2016).
Queens

The first purely residential scheme by well known London developers Derwent, Queens is the thoughtful redesign of a West London 1930s cinema into sixteen luxury apartments. The design, by architecture firm Stiff + Trevillion, incorporates Art Deco references and original features with modern interiors and elegant finishes. The project is in the final stages of completion.
Riverside Studios

Within Hammersmith and Fulham's conservation area, Assael Architects and Mount Anvil are working on the redevelopment of an existing recording studio and cinema building into a state-of-the art media centre and residential complex. Planned for completion in 2017, the new scheme aims to regenerate the surrounding neighbourhood and contribute to the adjacent river walkway. The mixed-use development comprises TV studios, a cinema, restaurants and 165 apartments of varied sizes. Echoing the movements of the river, this curvaceous new riverside project in West London is designed by RIBA Stirling Prize-winning architects Stanton Williams.
Riverwalk

The scheme comprises two interlocking volumes and features strategically calculated curves that provide residents with expansive panoramic views over the water. The building is due for completion within the next year, and is set to become one of the few contemporary residential developments on the Thames North Bank.
Royal Wharf

One of the largest areas currently in development in East London, the Royal Docks is aiming to become a new business district for London when it completes in 2020. It will also include a substantial residential element. Phase two of Royal Wharf has just been released, including a neighbourhood of over 3.300 new riverside properties. Glenn Howells Architects worked on the masterplan, while Mae Architects and Serie Architects are both involved in creating individual buildings (Park View Place and Sienna House respectively).
Southbank Tower

Currently in construction, the Southbank Tower is designed by internationally acclaimed architects KPF and spans 41 levels of residential and commercial space. The structure has topped out and is due for full completion in the year to come. It will include a large retail and office space as well as luxury apartments. This tower will also include one of the largest private roof gardens in London and penthouse interiors by Dara Huang and 1508.
The Music Box

This new mixed-use development in Southwark will house forty-one apartments placed right above the London Centre of Contemporary Music. Inspired by the scheme's musical element, SPPARC Architects have designed an abstract exterior that references piano keys. The fittingly named Music Box comprises a range of apartments as well as a penthouse. The development is scheduled for completion in 2016.
The Nova

A vibrant new development in the heart of London - in Victoria - the impressive 897,000 sq ft Nova scheme engages some of the capital's leading architects, such as Lynch Architects.
Saint Martins Lofts

Located in the iconic former Central Saint Martins Building in the heart of Soho, this development comprises 13 exclusive loft apartments. The airy spaces were beautifully restored and transformed into contemporary living units (some coming with large terraces and impressive views over London) by Darling Associates. The historic building (originally opened in 1939) represents London's rich creative history and its new apartments aim to continue this legacy.
Queens Park Place

The urban village of Queens Park in Northwest London is preparing to welcome a brand new addition to its housing stock. Queens Park Place, designed by SimpsonHaugh and Partners, will include 116 contemporary apartments and penthouses, private balconies and roof terraces, as well as 24-hour concierge service.
Receive our daily digest of inspiration, escapism and design stories from around the world direct to your inbox
Ellie Stathaki is the Architecture Editor at Wallpaper*. She trained as an architect at the Aristotle University of Thessaloniki in Greece and studied architectural history at the Bartlett in London. Now an established journalist, she has been a member of the Wallpaper* team since 2006, visiting buildings across the globe and interviewing leading architects such as Tadao Ando and Rem Koolhaas. Ellie has also taken part in judging panels, moderated events, curated shows and contributed in books, such as The Contemporary House (Thames & Hudson, 2018) and Glenn Sestig Architecture Diary (2020).