Rooftop farming, earth walls, and art: is this Hong Kong's most innovative office?
K11 brand founder's new office building in Hong Kong, designed by architectural designers ESKYIU, innovatively combines offices, culture and technology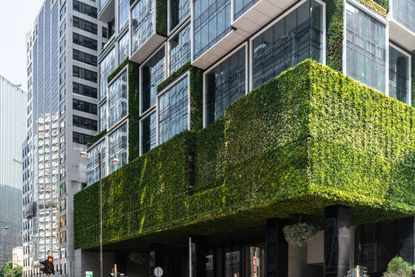 (Image credit: Kevin Mak)
ESKYIU architectural designers Marisa Yiu and Dr. Eric Schuldenfrei have a reputation for progressive conceptual thinking of urbanism, architecture and art, so it was no surprise that when K11 brand founder Adrian Cheng commissioned them to design the interiors of his new office building, they quickly came up with an unusual plan to combine offices, culture and technology.

'We wanted to go beyond traditional office design and use our curatorial and creative communication strategies to create something unconventional,' Yiu explains.

The lower three floors of the P&T-designed Platinum LEED 22-storey building feature an eye-catching green vertical facade that wraps underneath the main entrance ceiling creating an upside down hanging green field of 45,000 living ferns and two 4m-tall artificial olive trees.
The nature theme continues in the basement car parking with rammed earth walls, a ground floor stone 'heritage wall' made of materials excavated on-site, glass, wood and stone, and the landscaped rooftop.

The designers' experience with biennales and exhibitions led them to anticipate the most demanding of works in the second-floor cultural space, which has one of the highest floor loading strengths in Hong Kong to accommodate exceptionally heavy art pieces.

The enormous freight elevator doubles as an art display area, and extra-large artworks can be delivered through a 5.6 by 8m retractable bi-fold glass wall. The custom design complex lighting grid system also allows easy adjustment and flexibility for multiple events.

Innovative design details include urban-inspired 3D printed graphics, removable metal wall plugs that allow for large murals, gender-neutral washrooms with dramatic 6m-high ceilings and elevators that automatically detect office workers' destinations by reading an app on their mobile phones. On the upper floors, workspaces are bright and flexible with floor-to-ceiling windows, a well-equipped kitchen, executive shower and lactation rooms. And there is an urban rooftop farm with a 200m running track.
INFORMATION
eskyiu.com (opens in new tab)