Interactive floor plan: Brighton House, Melbourne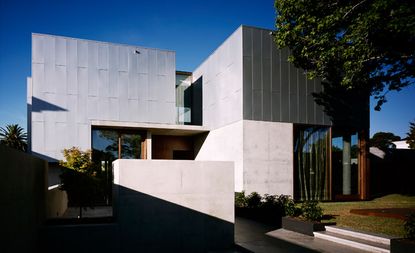 (Image credit: press)
This wide and leafy street in Brighton, a bayside suburb of Melbourne, is inhabited by an increasing array of large McMansions. However, among the faux French châteaux is a fine contemporary home designed by architect Robert Simeoni.
Devoid of superfluous embellishments, this house offers a sense of restraint in comparison to some of the more frivolous neighbouring homes. 'Our clients didn't want their house to scream for attention. We were also mindful of trying to build around the established oak tree in the front garden,' says Simeoni, who received this commission by means of a limited competition held by the clients.
Constructed in steel, glass and concrete, and partially clad in specially refined titanium zinc, the two-storey house frames the oak tree. However, past the courtyard and large pivotal front door, the house reveals an impressive double height lobby, with views through to the rear garden. 'It is a large house, but we've "fragmented" the building to create a sense of intimacy,' says Simeoni.
Spread over three levels, the Brighton house features a car park, a media room and a wine cellar in the basement. On the ground floor are the living areas, with a partially covered central courtyard bridging the two wings. As the owners have four young boys, they were keen to delineate spaces, while still having a sense of transparency. 'The courtyard, complete with an open fireplace, is the design's linchpin. It not only allows for outdoor dining throughout the year, it also freed up space in the garden for the children to play,' says Simeoni. The courtyard also delineates the casual living areas in the house from the formal dining and sitting areas.