EXE studio fuse modern with traditional in this Serbian mountain retreat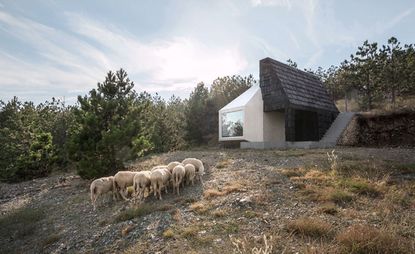 (Image credit: Relja Ivanić)
Good things come in small packages, judging by Belgrade based EXE studio (opens in new tab)'s design for a nifty mountain retreat near the popular tourist resort of Divčibare in western Serbia.

Tucked into the sloping hillside of Mount Maljen, a pair of contrasting monochrome parts fuse to form a 76 sq m residence, boldly emerging from a backdrop of pine trees and rocky terrain. 'Through the duality of the house, with two main volumes, the intent was to merge the traditional and the contemporary to create a unique aesthetic and a structure sympathetic to its surroundings,' explain the architects.

The polarity of parts is expressed in black and white. The contemporary south facing volume captures the dramatic view of the open fields with a grand picture window. Clad in white ceramic tiles that subtly reference the internal function of open plan kitchen, living and dining space, its asymmetric form creates an abstract presence in the landscape.

To the north, the traditional black lean-to volume pays homage to the vernacular. A cut away at ground level creates a veranda and sheltered entrance. Clad in rugged timber shingle, the private areas of the house are separated from the social living space, and they include a bathroom at ground level and an open plan sleeping area at first floor. An external stone stair and patio mitigate site level changes, anchoring the house to its sloped setting.

The inaccessible location and the project's fairly low budget provided a challenge to the construction process, with materials selected for economy, durability and local sourcing. The result is a remarkable game of contrast, the smooth white façade of the modern part, complimenting the textured, wecloming imperfection of local building traditions.
INFORMATION
Photography: Relja Ivanić (opens in new tab)