Drawing matters: deSingel explores the work of Belgian architect Christian Kieckens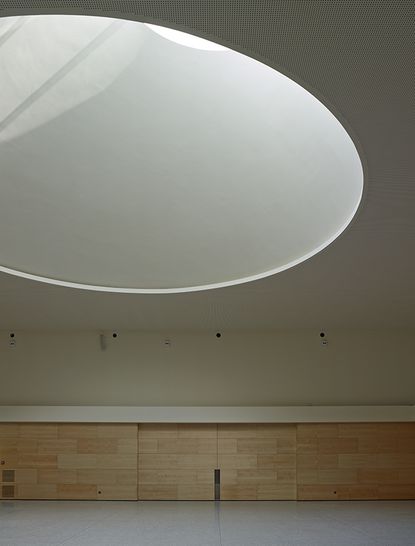 (Image credit: Niels Donckers)
Flemish architect Christian Kieckens first opened his practice in Antwerp in 2001 and has since tackled a variety of commissions, spanning graphic art, books, stage, interiors and private building design. His diverse portfolio has secured his reputation as one of Belgium's leading architecture practices. Works include from public buildings and urban design, to offices and houses.

To celebrate Kieckens' achievements, the deSingel International Arts Campus in Antwerp has just launched a new exhibition, entitled 'The House. The Mentor. The Archive.' documenting the architect's journey.

'Architecture is to buildings what music is to sound,' says Kieckens, believing that building design is much more than just bricks and mortar. Throughout his career, Kieckens has made it his mission to blend image, theory, imagination and history in all his projects, at the same time striving to encapsulate a 'visual simplicity' in all his designs.

The show is a retrospective revolving around the three dominating elements in Kieckens' career, 'the house, the mentor and the archive'. Kieckens explains, 'In a house, one seeks, imagines and builds. The mentor looks, writes and passes down. While the archive preserves, provides and remains aloof. The architect is not present at this point, what is shown is that which remains.'

This trilogy is also present in the composition of the exhibit. 'The House' is a space constructed from textiles. 'The Mentor' portion of the show focuses on the architect's continued role as a university lecturer, covering publications, collaborations on student projects and numerous invitations for guest professorship. 'The Archive' is formed of a series of drawings from 1974-1995, followed by a curated selection from the period 1996-2015. This part of the show put the 'focus on the transfer of knowledge in his design practice.'

The show aims to convey Kieckens' philosophy regarding unity and simplicity in design. 'Designing architecture in which every part is essential. Nothing more, but nothing less either,' reflects Kieckens.
INFORMATION
'The House. The Mentor. The Archive.' will run at the deSingel until 5 June
For more information on Christian Kiecens please visit the website
ADDRESS
DeSingel
Desguinlei 25
2018 Antwerp
Belgium