Casa Redux by Marcio Kogan: a minimalist Brazilian home that appears to float above the ground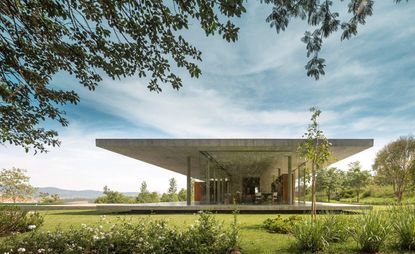 (Image credit: press)
Appearing to float above the slopes of Bragança Paulista, just one hour's drive north of São Paulo, and designed by renowned Brazilian architect Marcio Kogan and his practice Studio MK27, Casa Redux surely encapsulates the idea of a dream retreat.
See the interactive floor plan of Casa Redux by Marcio Kogan

Located in Quinta da Baroneza where some of Brazil's wealthiest have their holiday abodes, Casa Redux (translates into 'reduced') owes its name to its design concept. The project brief was simple: to design a vacation house with the least lines and elements possible. Facing west onto the soft hilly landscape at its feet and respecting the topography's natural contours, the house sits at the area's highest point.

Casa Redux is made of two equally sized concrete horizontal slabs. One acts as the floor - elevated half a metre off the earth, so that it gives the impression of lightly hovering above ground - and the other is the roof. There are four programmatic elements sandwiched between these two slabs. The first and most private one comprises the bedrooms and a sauna, while the second hosts a master bedroom suite, the third is the living room, kitchen and staff quarters, and the fourth caters for the garage and service room. An additional volume containing a timber deck and infinity swimming pool protrudes from the main floor slab into the landscape, its tip subtly floating above the site's slope.

Linked by corridors, the four volumes vary in materiality and form. The sleeping areas are enveloped in timber screens, which can open or close, giving the inhabitants privacy. At night they shine from inside, creating a 'light box' effect. The living and kitchen spaces are wrapped in full height glass planes, giving these spaces a sense of infinity. Everywhere, the architect creates continuity between interior and exterior space, flooding the house with light and a generous sense of space.

By designing a house around a single, strong architectural gesture - the structure's floating concrete slab 'sandwich' form - Kogan and his team created a healthy dialogue between the house and its natural environment that makes for a perfect getaway from Brazil's bustling urban centres.
Designed by Marcio Kogan and his Studio MK27 team, the house is made of two equally sized concrete horizontal slabs. One acts as the floor - elevated half a metre off the earth, so that it gives the impression of lightly hovering above ground - and the other is the roof
There are four programmatic elements sandwiched between these two slabs: the first comprises the bedrooms and a sauna, the second hosts a master bedroom suite, the third is the living room, kitchen and staff quarters, and the fourth caters for the garage and service room
By designing a house around a single, strong architectural gesture - the structure's floating concrete slab 'sandwich' form - Kogan and his team have created a healthy dialogue between the house and its natural environment that makes for a perfect getaway from Brazil's bustling urban centres