A Bordeaux housing project breathes new life into the city docks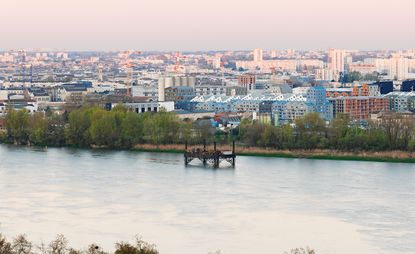 (Image credit: Cyrille Weiner)
Bordeaux's former harbour and shipyard is turning into one of the city's hottest spots. Masterplanned by Nicolas Michelin's firm ANMA, the Bassins à flot (Wet Docks) will become home to 12,000 citizens by 2030, and are already transforming into a dynamic mix of housing, work, entertainment, as well as community-based projects.

Silos, sluices and a wartime submarine base (now converted into a cultural centre) constitute the local architectural heritage. The scale of industrial hangars, their corrugated cladding and shed roofs dictated a site-specific design language to Michelin and his colleagues from some 80-plus firms, who are currently busy giving the Bassins à flot a new lease of life.

ANMA's recently completed housing project reflects on a 'new approach to city-making', say the architects. Two buildings sheathed in corrugated metal flank a garden with a glazed saw-tooth roof spanning over it. One building contains social rent units, the other, private flats for sale. Both volumes are long and slim, thus allowing for dual aspect layouts for every flat.

Having opted for a shared ground-floor car park instead of a more expensive underground garage, the architects were able to carve out enough budget to plant a garden on the first-floor slab and cover it with a smart roof. The roof's south-facing slopes are fitted with solar panels, while the steeper, north-facing ones are fully transparent. The resulting atrium creates an 'inter-climatic space' that guarantees all-season comfort for people and plants. In summer, natural ventilation enables a cooling effect as hot air is let out through the openings in the roof. In winter, the atrium stocks warm air, which is then used to ventilate the apartments also helping keep the insulation of the garden-facing facades to a minimum.

Oriented towards the docks basin, this garden atrium is in fact a roofed version of the new district's characteristic planted 'pathways'. A whole system of these is planned to be arranged across the area, offering scenic views and leading pedestrians and cyclists to the waterside.
INFORMATION
For more information on ANMA visit the website (opens in new tab)
Photography: Cyrille Weiner