Govaert & Vanhoutte Architects conjure the ultimate pad for a classic-car enthusiast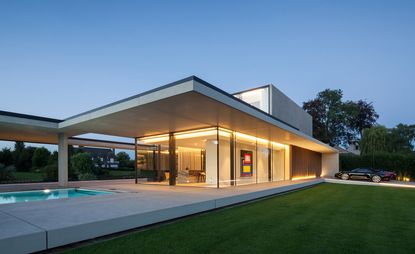 (Image credit: Tim Van de Velde)
Govaert & Vanhoutte Architects may well have perfected the profile for the ultimate bachelor pad. Built-in cigar cabinets, a car elevator, a rooftop jacuzzi and a private club in the basement with a subterranean pool view are just some of the characteristics that make this slick riverside property, located just outside of Ghent, the perfect foil for a player.

On a smoothly cultivated lawn aligned to the flow of the Leie river, the horizontal geometry of the floating concrete roof and glass river-facing facades ooze confidence and pizzazz.

The architects tailored the design to meet the needs of their client, a luxury car dealer and old-time car enthusiast. 'He has a particular lifestyle for his line of work, which involves organising events and parties for friends, but also for some exclusive clients,' says Benny Govaert, lead architect on the project. 'He wanted a house that allowed him to organise all this at home, with the possibility of putting certain exclusive cars on display.'
The pool is the life and soul of the party, connecting the ground floor open-plan living areas with the outdoor covered decking area. The basement club features a large window that frames the pool aquarium-style, casting aqua-tinted light into the interior (as well as affording a view of the scantily-clad swimmers inside it).

The club is a schmoozer's paradise, kitted out with a bar, luxury lounge, glazed wine and cigar cabinets and a DJ booth for a late night boogie. A car elevator descends into to the space, which has a designated display area for four cars from the owner's collection.

While the function areas are integrated into the design, the home also offers flexibility and privacy – the master suite is contained within the upper volume, with access to an intimate sunken roof terrace and jacuzzi (and two extra bedrooms and bathrooms for guests).

A pure cuboid of concrete and glass, the upper volume is neatly stacked on top of the lower form. Between the volumes, a slick slice of concrete evolves faultlessly from roof to canopy, stretching the architecture into a sweeping statement.
This refinement of form was the biggest technical challenge for the architects. 'Making the large overhanging concrete canopies fairly slim forced us to really push the boundaries of the technical possibilities of concrete,' says Govaert.
INFORMATION
For more information, visit the Govaert & Vanhoutte Architects website (opens in new tab)