Architecture news: Letter from Scandinavia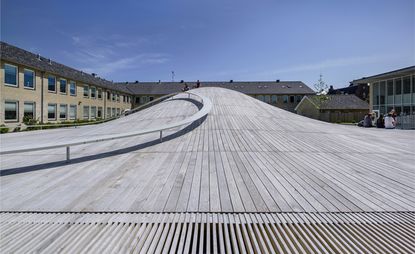 (Image credit: Jens Lindhe)
Wallpaper* Newsletter
Receive our daily digest of inspiration, escapism and design stories from around the world direct to your inbox
Thank you for signing up to Wallpaper. You will receive a verification email shortly.
There was a problem. Please refresh the page and try again.
Denmark: Gammel Hellerup Gymnasium by BIG
Danish firm BIG, short for Bjarke Ingels Group, was asked to create a multifunctional space for physical activities and social gatherings when Old Hellerup High School's previous sports facilities became outdated. The new hall is placed five meters below ground and features a convex wooden roof. Like a molehill, the same softly curved roof rises up into the school's courtyard, creating a slanting meeting place that can host numerous informal student activities. A long social bench that runs across the elevation is perforated with small windows, ensuring that the subterranean hall is flooded by daylight.
The Scandinavian countries of Norway, Sweden and Denmark may often be seen as a single entity, yet each has their own distinct DNA. The same is true for Scandinavian architecture, which often is bundled up into one easy to convey formula. But, as great as the variations are in Scandinavian landscape and nature, equally diverse are the features that recur in the area's architecture.


One trend, however, has been emerging among the region's architects for the last few years: the rediscovery of tradition. As a backlash to globalisation, there is a strong will to highlight and reinforce national and cultural differences, which, quite refreshingly, doesn't mean relying on well-tried solutions.

Instead, Scandinavian architects choose to reinterpret traditions, transcend old boundaries and reflect the surrounding environment. Striking examples of this include Denmark's Den Blå Planet by 3XN, Sweden's Naturum Vänerskärgården by White, as well as Norway's Sogn & Fjordane Kunstmuseum by C.F. Møller, which all take in account their direct surroundings in the visualisation of the finalised buildings.

Perhaps held back by the ever-present Scandinavian Law of Jante, an idea that criticises individual success and achievement outside of a group context as unworthy and inappropriate, few architects have dared to address the controversy of vertical construction. Until now, that is. It seems Calatrava's Turning Torso, a 54-storey skyscraper in Malmö and currently the tallest building in the Nordics, has sparked a flurry. All of a sudden, the most prominent architects are keen to join the race in constructing Scandinavia's highest building.
RELATED STORY
The year 2019 might see the opening of Tellus Tower, a 75-storey residential building proposed for Stockholm. Meanwhile, architectural firm Visiondivision plans to create a mini Manhattan out of the skyline in the city. MVRDV and ADEPT have won the competition to design the 116 meter tall Rødovre Skyvillage in Copenhagen, and in Aarhus, Light House by UNStudio and 3XN, is set to be Denmark's tallest building upon its completion in 2014. It seems architects are finally ready to stand out from the architectural guild at large.

At the same time, a wealth of new buildings has been in development in various parts of Norway (see our Norway Dispatches report in W*175, October 2013), while the capital of Oslo is undergoing something of a reinvention, with several urban planning, larger mixed use and housing developments and large scale public buildings currently in the pipeline.

In the coming years, Scandinavian architecture is perhaps presented with its biggest challenge to date. White Architects, along with Ghilardi + Hellsten Arkitekter, have been selected as the winners of the competition to relocate and develop the northern Swedish town of Kiruna. Due to risk of landslides triggered by mining, it was decided that the entire city centre is to be moved just east of its current location. We imagine this development will keep Scandinavian architecture in the spotlight for quite a few years to come.
Denmark: Grundfos Kollegiet by CEBRA
Grundfos Kollegiet, a student dormitory at Aarhus' engineering colleges in the heart of the Danish city's new harbour front development, overcomes the current Scandinavian shortage of low-cost accommodation for students. Increasingly noted Aarhus practice CEBRA has applied vertical stripes to the towers, emulating a number of books with different covers set on a shelf. Inside, the towers form a 12-story atrium with mirror clad balconies and bright orange and red front doors, creating an eternal kaleidoscope of reflections.
Denmark: House of Vestas by Arkitema Architects
When Danish wind turbine manufacturer Vestas decided to relocate its headquarters, along with 500 of its employees, from Randers to Aarhus, they tasked Arkitema Architects to create a hyper-sustainable office. The result is House of Vestas; Europe's first LEED Platinum certified building (and part of the list of approximately 150 commercial buildings around the world to attain this American designation of energy efficiency). Within the all-black, Rubik's cube-like façade, made up of slate panels and a dark tinted glass, are airy, light-filled spaces divided into several office wings. These are interconnected by floor-to-ceiling glass walkways and a large entrance atrium.
Denmark: Den Blå Planet by 3XN
At the National Aquarium, designed by 3XN, visitors are drawn into an underwater world through its whirlpool shape. Copenhagen's latest cultural attraction has several faces which, depending on viewing angle, distance and daylight conditions, change drastically. From above, the building's contours are redolent of a starfish, while visitors approaching the building from the front might be astonished by the silver gray waves that look as if they are about to wash over them. Up close, the façade patterning, created out of more than 33 000 diamond-shaped shingles, looks and feels like fish scales.
Denmark: UN City by 3XN
Another star-like formation in the Danish capital is UN City, also created by 3XN. The Danish firm has played with the idea of the various UN agencies and functions working independently, but with a clear and mutual goal at the heart of its operations. The regional head office, located in the northern harbour of the Danish capital, has safety and high security as a key priority while, at the same time, an open and flexible environment. An architectural feature that emphasizes the latter is the spectacularly playful and dynamic staircase in the atrium.
Norway: Plassen Cultural Centre by 3XN
To conciliate the Norwegian town of Molde's need for a space, 3XN has delivered a robust but flexible framework for the annual jazz festival to work around, an event that brings in 100 000 music enthusiasts each year. The solution manifests itself as a structure where all surfaces and spaces have more than one function, whether it be inside, on top or around the building. The bright granite facade creates a monochrome look that emphasises the brightly coloured concert hall within.
Norway: Sjøfartsmuseet i Porsgrunn by COBE and Transform
Danish architecture practice COBE, along with the fellow countrymen at Transform, won the 2009 competition to create the maritime museum for the Norwegian coastal town of Porsgrunn. Building on the local community's long history in shipping, the museum is constructed with the continuously changing colours of the sky and sea in mind. The aluminium exterior, consisting of nine volumes placed in different angles, reflects the surrounding nature and buildings. Although imposing, the Sjøfartsmuseet manages to show supreme sensitivity to its environment.
Norway: Rundeskogen by Helen & Hard
Stavanger-based architects Helen & Hard, the practice behind the spectacular Vennesla Library & Cultural Center, have created an unusual set of three residential towers. Rundeskogen, located right outside of Sandnes in Norway, contains a total of 114 units and is constructed using a concrete, trunk-like core that branches out into dwellings made of timber framework. Underneath the 'foliage' that makes up the units, a natural and generous area for social gathering is formed.
Norway: Sogn & Fjordane Kunstmuseum by CF Møller
Reflecting the proximity to Jostedalsbreen, the largest glacier on the European mainland, the Norwegian town of Førde's art museum takes its shape from a large block of ice that has slid down the mountain. On its exterior, Danish architecture giant CF Møller have created an intricate network of lines, reminiscent of fractures in ice, which are illuminated at night. The form of a cracked ice cube provides an asymmetrical plan solution for the interior, which holds exhibition space on four floors, topped by an observation deck on the roof.
Norway: Tjuvholmen Bank of Commerce by Schmidt Hammer Lassen
The islet of Tjuvholmen in the heart of Oslo has seen plenty of architectural action this past year. Following the opening of The Thief hotel and the Renzo Piano-designed Astrup Fearnley museum, the small island's latest tenant is the Norwegian Bank of Commerce, which has opened its new head office next door to its already famous neighbors. Schmidt Hammer Lassen have designed the building, an L-shaped volume in which large, glazed widows are framed by thick copper panels.
Sweden: Artipelag by Nyréns Arkitektkontor
Following the opening of Sven-Harrys, a privately owned, gold clad art museum a few years back, Stockholm has seen the opening of yet another privately funded art venue. Born out of love for art and the Swedish archipelago, Björn Jakobson, founder of children's brand Babybjörn, set out to create a venue where the two can merge. Built entirely with nature's own conditions in mind, Nyréns Arkitektkontor's organically shaped building sits partially integrated into a cliff, covered in moss and sedum plants. Artipelag's rugged exterior is punctured by slender panes of glass, and is constructed in a way that will allow the addition of a hotel at a later point in time.
Sweden: Tele2 Arena by White
Accumulating all of architecture firm White's expertise in the areas of landscape architecture, urban design, environmental concerns, art and visualisation, as well as claiming ten years of the firm's dedication and time, the Tele2 Arena might very well be one of the largest building projects constructed in Scandinavia in the past two decades. Reminiscent of a mixing bowl of rising dough, the arena's casing - made up of perforated sheet metal - swells out over the Globen area, creating an outstanding location for major international events.
Sweden: Emporia by Wingårdhs
In the Swedish city of Malmö, retail complex Emporia breaks the strict street grid and the monotonous facades of the new urban development area Hyllie, by drawing in passers-by through it's morph-like entrances created by double-bent glass. Swedish architecture firm Wingårdhs, headed by Gert Wingårdh, describes Emporia as an urban planning project in which offices, housing and retail come together in one. Other striking features in the three-storey complex include the rainbow coloured parking garage, a hanging garden, an intricate escalator atrium and a cultivated rooftop garden, which will be developed into an outdoor dining and spa area.
Sweden: Himmlatrappan by Wingårdhs
At Kivik Art Centre, a sculpture park along the southeastern corner of Sweden, a simple steel ladder raises itself over the canopy of the surrounding trees. Gert Wingårdh's Staircase to Heaven is the latest addition to the park featuring work by Snøhetta, Tom Sandberg, David Chipperfield, Antony Gormley, Matti Suuronen, Julian Opie, to name a few. It is just over a meter wide and reaches 18 meters into the air. What makes the architectural sculpture so stimulating is that, although manifesting itself right in front of the spectator, it can only be ascended in one's own mind.
Sweden: Woodland Crematorium by Johan Celsing Arkitektkontor
Skogskyrkogården, or the Woodland Cemetery, is a UNESCO World Heritage Site located just south of Stockholm. Famous for its structures by Gunnar Asplund and Sigurd Lewerentz, the wild forest cemetery sees the instalment of a new crematorium by Johan Celsing Arkitektkontor. The asymmetrical brick volume is placed in an existing clearing, developed in response to the terrain where pine trees, moss and exposed bedrock are common elements of nature. Upon the roof, large perforations admit daylight, as in for example the Ceremonial Room, which is lit through a narrow skylight at the far end of the hall.
Sweden: Naturum Vänerskärgården by White
Throughout Sweden, a number of naturum (which roughly translates to 'rooms in nature') allow visitors of national parks and nature reserves to find out more about the specific region's flora and fauna. One of the latest, created by architect practice White, is set on the shoreline of lake Vänern and dedicated to HRH Crown Princess Victoria of Sweden. Echoing the contrast between light and shade of the baroque architecture of nearby Läckö castle, as well as the reed belt that grows along the coastline, the structure is dramatic and poetic at the same time. Naturum Vänerskärgården houses a visitor's centre, an exhibition area, a restaurant and fifteen hotel rooms.
INFORMATION
Receive our daily digest of inspiration, escapism and design stories from around the world direct to your inbox