Model home: Alfredo Häberli creates case study house for Baufritz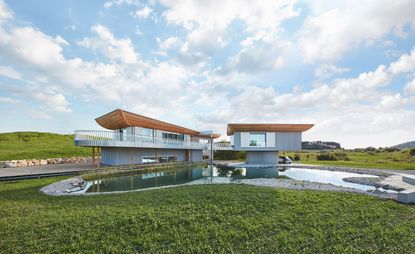 (Image credit: press)
In 2008, compelled by an interview he had read in a magazine, Swiss designer Alfredo Häberli wrote a 'love letter' to Dagmar Fritz-Kramer, the CEO of Bavarian prefab housing manufacturer Baufritz. So taken was Häberli with Fritz-Kramer's passion for sustainable design and healthy architecture, that he offered up his design services in order to fulfill a long-standing dream. 'I wanted to design a case study house by the time I was 50,' says Häberli. 'Not for me personally, but one that sets an example. One that makes a contribution through its aesthetics and its inherent way of thinking. That was my dream.'

To Häberli's surprise, his letter went unanswered. Three years went by, until out of the blue, he received a phonecall from Fritz-Kramer. 'At the time when he first contacted me I didn't have any projects for him. We didn't have plans to build a super design home and we didn't have a plot,' remembers Fritz-Kramer. 'Then just three years ago a woman contacted me with an amazing plot she had near Lake Constance, so then I contacted Alfredo about this chance to build a really nice home.'

Fritz-Kramer, who is the fourth generation to lead the family company, took the reigns at Baufritz in 2004. Her aim from the outset, she says, was to 'transform a Birkenstock into a designer shoe', and projects with designers like Häberli will help to marry the company's knowledge of sustainable timber construction with a new contemporary design approach – a departure from the typical 'Alpine style' that customers have come to expect. Together, they designed a nautical-inspired timber frame house for the Lake Constance plot but due to the area's strict planning laws, plans for the house were derailed after a year. Not one to be defeated, Fritz-Kramer decided to simply switch the house's location a little closer to home, installing a pond-sized substitute 'lake' next to Baufritz's Erkheim HQ, and building the house as a show home on its shore.

Now open for viewing, Häberli's 'Haussicht' (meaning Home View) is a style-conscious prefab that eschews the 'eco house' stereotype. 'I wanted to do it a little bit more chic, a little more sexy,' says Häberli. 'I think that's the way to go to convince the public [to buy into sustainable design].'

Made up of two parts, the main house, and a smaller adjoining 'Stöckli' (a traditional type of house that Swiss farmers move into when they retire), the layout is designed to accommodate the changing needs of a family as it grows and shrinks over the course of a lifetime.
Häberli's mood board with sketches and material samples for 'Haussicht' – which means Home View

From the outside, clad in vertical grey-painted timber with angled surfaces, wrapped by a sweeping terrace and topped with an overhanging sloping sheet-metal roof, the steely grey houses resemble two arks washed ashore. Yet inside, a warm Scandinavian mood prevails. Realised almost entirely in a palette of oak, aluminium, stone and marble, the flagship house is laid out 'like an ark' with the living quarters upstairs and bedrooms and bathrooms 'below deck'.

Downstairs, what Häberli describes as a linear 'central spine' takes the form of a dividing wall with a public and private side. From the entrance hallway it functions as a vast storage and shelving unit that spans the 26m length of the house, while on the other side, the bathrooms and bedrooms are arranged along it, linked by a hallway that runs along the house's perimeter.

A glazed stairwell in the centre leads downstairs to a basement wine cellar and upstairs to an open plan living and dining area with a central kitchen that benefits from glazing on three sides. If the sun's glare gets too much, the interior can be shielded by sliding aluminium shutters cut with playful Häberli-style polka dots (as seen on his design for Camper's Rotterdam store). Sitting to the west of the central stairwell, two sliding pocket doors lead to another living space dominated by a towering seating island or 'media couch'. Upholstered in a gradient of cool-coloured fabrics, the stepped sofa can be rotated around to face a cinema screen or spun the other way to look outwards towards the fireplace and the rest of the room.

Linked to the 'flagship' by a bridge on the first floor, the 70 sq m Stöckli's use is open to interpretation – as a workshop, a guest room, a retreat etc – but here Häberli has fitted it out as an accessible one-bedroom apartment for elderly grandparents. Full of clever features such as a barrier free shower, self-lowering clothes rail, adjustable height kitchen counter and its own platform lift from the ground floor entrance, the multi-generational design was inspired by Häberli's own experiences of caring for his mother while also seeing his teenage children becoming more independent. 'The house is our view on how we want to live in the future,' he says.

Elsewhere clever multifunctional interventions or pieces of 'furnitecture' are built into the house's structure; an oak bath tub and fireplace blend into the bedroom window frame, a dining table with bench seating and an indoor garden is built into the Stöckli, while low level bookshelves that also serve as bench seating wrap the perimeter of the first floor living room. 'The beauty of working with Haberli is that he's a product designer, not an architect. So he thinks about using components that can be mass produced but in a new way. He thinks about numbers and production,' says Fritz-Kramer, pointing out the building's balustrade which is made from a single repeating steel component.

Häberli wanted to marry the company's knowledge of sustainable timber construction with a new contemporary design approach

Despite its seductive features and luxurious appearance, the bones of Haussicht are resolutely green. Prefabricated in the workshop and assembled on site over the course of about a week, the house uses only regenerative energy sources while also benefiting from an airtight construction insulated with a patented eco insulation made from wood shavings, whey and soda. In addition, all materials used in the house, including furnishings, went through Baufritz's detailed building biology pre-testing or material testing, which was then certified using indoor air analysis in the finished house.

This particular aspect is one that Fritz-Kramer is particularly passionate about. 'We've been taking the lead on this for 13 years now but not as a marketing aspect,' she says. 'My mother died from cancer in the 1980s because of products that were in our house and for this reason our company changed its whole operation. We changed all of the materials that we used and the ideas that we had. Since then we've been fighting for creating healthy buildings.'
INFORMATION
For more information visit the Baufritz website (opens in new tab) and Alfredo Häberli's website (opens in new tab)