Ibuku's innovative bamboo structure makes idyllic yoga centre in Bali
Bali-based architecture and design studio Ibuku reveals the carefully engineered Alchemy Yoga and Meditation Center in Indonesia, an artful showcase of building with bamboo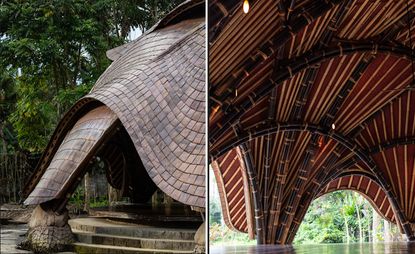 (Image credit: Tommaso Riva )
Wallpaper* Newsletter
Receive our daily digest of inspiration, escapism and design stories from around the world direct to your inbox
Thank you for signing up to Wallpaper. You will receive a verification email shortly.
There was a problem. Please refresh the page and try again.
Founded by designer Elora Hardy in 2010, Ibuku is growing to be one of the most exciting architecture and design studios to come out of the island of Bali, Indonesia. The practice's approach of 'pioneering a new design vocabulary' through the use of bamboo has placed it among the global leaders in the material's construction and innovation. Having designed and built The Arc at Green School earlier this year, brilliantly showcasing its skill in this genre of sustainable architecture, Ibuku now reveals its latest bamboo structure, the newly completed Alchemy Yoga and Meditation Centre in Ubud, south-eastern Bali.
One of Indonesia's main tourist hubs, attracting millions of travellers a year, Bali is known for its rich cultural heritage and diverse ecological and geographic landscapes. The rice terraced scenery of Ubud (derived from the Balinese word 'Ubad', which means 'medicine') is at the heart of traditional arts and crafts production on the island. The Alchemy Yoga and Meditation Center has a form carefully embedded into this Balinese landscape.
Bamboo structure makes innovative and sustainable yoga centre
Built on a smooth, circular foundation made of timber, the structure rests on rugged boulders. There are nine such pedestals, from which spring bamboo arches – and none is identical. They help define the roof structure, and in order to avoid making it too heavy and ensure its stability, the Ibuku team arranged these arches in a way that results in limited overlap, spreading the load. This also creates a striking appearance, and 'every arrangement you look at is like an arrangement of flowers', says Hardy.
There was a further careful process in order to select and match the colour tones and diameters of the bamboo poles and tapers. As all poles had to be handpicked for structural reasons, their colour arrangement proved to be a laborious task. The studio worked with local craftsmen, relying on their expertise of sorting between shades of black and brown, to select each individual pole forming the arches suitable for the structure.
Meanwhile, the blond bamboo ceiling elements create a radiating rhythm where 'the rafters are arrays of sunbursts, extending the pattern to illustrate the energetic lines upwards as if from underground suns', says Defit Wijaya, one of the senior architects at Ibuku.
Whilst the repeated structural elements allow for efficiency in construction, the studio still introduced playful asymmetries, aiming to balance a design language that remains sensitive to yoga practices and harmonious to the interior experience of the structure. One of the architects, Doni Nodly, explains: 'By randomising the roof beam orientations, we made an analogy to how bamboo clumps grow in nature.' Emphasised by the circular shape of the floor, biophilic design helps 'the structure to escape being a structure so that you can relax and be in nature'. This method of playing with juxtapositions of order and randomness results in a variety of vistas: 'There are nine perspectives with each frame and views offering a unique shape.'
With the bamboo arches intersecting to support the roof, the latter's shape is 'entirely derived from the interior experience'. The exposed ceiling is pigmented and stained with bamboo matting in a rusty tone that reflects the copper roof above. The top exterior copper shingle skin is handcrafted, with highly skilled artisans shaping each angle of bends and the curves of the edges.
Rather than manipulate the bamboo, the studio emphasises that, 'we want to follow the conversation with the material, to be accommodating to it'. The bamboo is sourced and harvested in Bali and nearby islands, such as Java, and treated with a boron solution having a 'toxicity level just 1.5 times greater than that of regular table salt', the architects explain. Ibuku has an extensive history of collaborating with local artisans including exclusive contractor and construction partner PT Bamboo Pure, a bamboo treatment facility and custom furniture workshop, as well as local education and research enterprise Bamboo U, contributing to an innovative culture of new and future bamboo vernaculars. Its design methods and the efficiency in bamboo construction has enabled the studio to complete over 200 such projects in the last decade alone.
The Yoga and Meditation Center, a partner of Alchemy Group, which first opened a vegan restaurant in Bali followed by a local holistic clinic for alternative treatments, is a fine example of Ibuku's work. Architects and clients are now preparing to officially launch the yoga centre in 2022.
INFORMATION
Receive our daily digest of inspiration, escapism and design stories from around the world direct to your inbox