All(zone)'s 2022 MPavilion to address sustainability, interaction and the pandemic
Bangkok-based architecture studio All(zone) and its founder Rachaporn Choochuey have been selected to design the 2022 MPavilion in Melbourne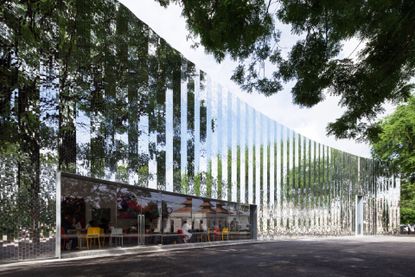 (Image credit: press)
How people should live in increasingly crowded built environments is a subject that obsesses Rachaporn Choochuey, and also one on which the Thai architect has staked so much of the work and reputation of her Bangkok-based studio, All(zone). The issues are maddening in their complexity and whilst no one seriously believes that they will be solved any time soon, the work that Choochuey has been producing – the 2016 MAIIAM Contemporary Art Museum in Chiang Mai and a deft study of sustainability and adaptive use for the 2019 Sharjah Architecture Triennial, for instance – is encouraging.
All the more reason to applaud the decision by the Melbourne-based Naomi Milgrom Foundation to award to All(zone) the design of this year's MPavilion. Planned annually, like the UK's Serpentine Pavilion, the remit of the Antipodean version is to engage the local community through talks, cultural events, workshops and performances under the literal aegis of a temporary installation. How All(zone) will interpret that engagement is an intriguing question that won't be fully answered till the pavilion is unveiled to the public on 17 November 2022 in Melbourne's bucolic Queen Victoria Gardens.
All(zone)'s Rachaporn Choochuey on MPavilion 2022 design
For now, it's clear that All(zone)'s interpretation of the brief holds fast to the studio's MO of a playful riff on porosity, light, and sustainable materials. To her credit, Choochuey does not skirt Covid-19, but she does change the rules of engagement. After two years of repeated lockdowns and confinement, she says she wants to celebrate outdoor living. And so, her iteration of MPavilion will be 'a place where people can be together, seeing each other, eyes-to-eye in public. It has to be an open platform where activities, interventions, and collaborations can occur. This will be a casual space where everyone can feel at ease.'
Much of the groundwork has already been laid, Choochuey and her team sidestepping the initial restrictions of Covid lockdowns in Australia and Thailand through video calls. In the beginning, working remotely wasn't easy, she admits, especially when it came to finessing details and materials, but the work is progressing at a reassuring clip.
Always intrigued by lightness in architecture, Choochuey trained at Columbia University and completed her PhD in Tokyo under the tutelage of Toyo Ito, and she credits a lot of the nuances in her work to him. 'His work is, perhaps, the most influential. I wanted to understand more about the blurry quality of its presence, which is why I went to Tokyo. Being from a different culture, I soon realised that although it's very powerful and beautiful, space in Japanese architecture is very tense and proper,' she says. 'In my studio, I always try to challenge the idea of architecture as a rigid form by pushing the boundary to the point where we can build the lightest building whilst exploring different ways to respond to climatic conditions with minimum energy consumption.'
As they say, watch this space.
INFORMATION
allzonedesignall.com (opens in new tab)
mpavilion.org (opens in new tab)
Daven Wu is the Singapore Editor at Wallpaper*. A former corporate lawyer, he has been covering Singapore and the neighbouring South-East Asian region since 1999, writing extensively about architecture, design, and travel for both the magazine and website. He is also the City Editor for the Phaidon Wallpaper* City Guide to Singapore.