TAKANORI INEYAMA
WALLPAPER* ARCHITECTS' DIRECTORY 2019: Japanese architect Takanori Ineyama, who is based out of Kanagawa, builds his designs through a contextual approach, conscious of the demands of modern life. Combining high ceilings with timber beams, and corrugated plastic, his Inner Garden House is a private oasis of light in the heart of Kofu City.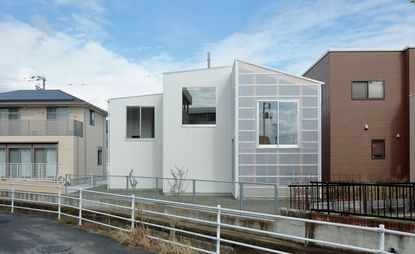 (Image credit: Takanori Ineyama)
Inner Garden House, Yamanashi, designed by Takanori Ineyama, selected for the Wallpaper* Architects' Directory 2019 (opens in new tab)
Takanori Ineyama says the biggest lesson he's learnt since opening his Kanagawa-based practice in 2014 is 'Don't stop thinking' – a mantra that served him particularly well when a childhood friend commissioned him to design their family home in the outskirts of Kofu City in the Yamanashi prefecture.

Like so many residences in Japan, the site is claustrophobic, shoehorned as it is into a tight plot with almost no room between the neighbours. Ineyama's solution was to turn inwards and upwards to create lofty volumes that are punched through with oversized windows set high for privacy.
Ineyama's centrepiece is a conservatory constructed of timber and polycarbonate that is separated from the main living space by a clerestory and glass shoji screen. Outlined in floor-to-ceiling translucent panels, it is both a lightwell and interior garden that offers privacy, and a sense of nature and the changing seasons – two of the most precious commodities in a typical Japanese home.
The design of the house cleaves close to the notion of a large room in which spaces are demarcated for different functions (such as dining and relaxation), and yet be connected as much as possible. As a young architect practising in modern Japan, Ineyama says 'it's important to respect the individual's space while still allowing them to share a common space. In this house, I connected rooms including the inner garden as much as possible.'
That Ineyama has managed to subvert the footprint of a traditional Japanese home to create something that is nevertheless thoroughly modern is encouraging. It's especially telling that the other projects in his studio's fledgling resumé are mostly residential or restorations, a reflection, perhaps, of his belief that designing someone's home means discovering important new lifestyle tropes. 'The form, function, material and structure of architecture – these are all affected by the local context.'

INFORMATION
ineyama.jp (opens in new tab)
WALLPAPER* ARCHITECTS' DIRECTORY 2019 (opens in new tab)
Daven Wu is the Singapore Editor at Wallpaper*. A former corporate lawyer, he has been covering Singapore and the neighbouring South-East Asian region since 1999, writing extensively about architecture, design, and travel for both the magazine and website. He is also the City Editor for the Phaidon Wallpaper* City Guide to Singapore.