JULIUS TAMINIAU
WALLPAPER* ARCHITECTS' DIRECTORY 2019: Amsterdam-based Julius Taminiau set up his firm in 2015, after working at Carl Turner and DSDHA in London. His work seeks to distil the complications of the modern world into pure functions, while providing shelter and improving living conditions using natural materials, as seen in the Japanese- style houseboat (pictured) in Amsterdam that he built for himself.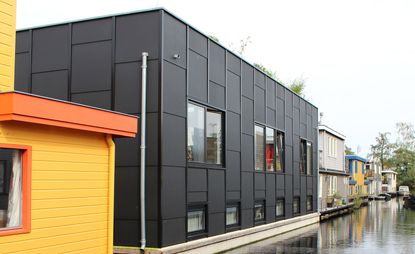 (Image credit: Julius Taminiau)
Tatami House, Amsterdam, The Netherlands, designed by Julius Taminiau, selected for the Wallpaper* Architects' Directory 2019 (opens in new tab)
Sometimes modern life gets to architect Julius Taminiau, who, in an attempt to stay afloat of the challenges of globalisation, digitalisation, commercialization, uses his architecture to try and filter all the complexities of society down to the pure and essential: 'In the end, architecture is about the improvement of people's lives and environment,' he says.

Taminiau founded Julius Taminiau Architects in 2015 in Amsterdam to tackle this challenge. He studied architecture at the Faculty of Architecture at the Technical University of Delft, going on to gain experience in London at Carl Turner Architects (CTA) and DSDHA.

When he moved to Amsterdam with his family, he struggled to find a home within the climate of rapidly rising home prices. In London at CTA, he had been working on the design for an open-source autarkic project of a houseboat, so when he came across a dilapidated houseboat for sale with it's own moorings in the 'floating village' of approximately 200-300 houseboats near the old Olympic stadium, he saw its potential.
Inspired by the Japanese 'Tatami' mat ratio, he redesigned the three level houseboat into a modern family home using standard plywood panels all of the same size. He created what he calls a 'Tatami system' using the standard cuts of material to design the floor plan, cladding and structure. Using the pre-cut material as a guide reduced sawing costs, minimized wasted material and labour and therefore resulted in lower costs.

As well as being influenced by the Japanese balance of proportions, Taminiau's local context influenced his use of timber. He could have chosen another plastic-based water-resistant material, but Taminiau wanted to use sustainable materials as much as possible. The sustainably harvested hardwood on the façade is durable and has a 50-year guarantee, and the whole structure was prefabricated in Hardenberg, the Netherlands, and towed 100 km over water to reach its destination: 'The Netherlands is also called "Holland" which translated means "wood-country", and I still believe timber is still very much in our DNA.'
Inside the Tatami house, bright white interiors complement the light-coloured plywood finishes. Reduced circulation in the plan, and space saving techniques such as a kitchen island with built in chairs and a staircase used as a space divider meant that the house is compact, yet feels spacious. Taminiau believes that a minimalist interior emphasizes the beauty of beloved personal belongings important to the user.

Taminiau's love of Rietveld and Mondrian, is clear from his geometric modernism, and his love of Van Gogh can be seen in his love of water and how he discusses architecture as a part of culture too. 'I like to believe architecture can make people happy. Our minimalist design approach emphasizes beauty, and its relation to spaciousness, neutral and natural materials, some beloved personal belongings, plants and, importantly, the users.'
INFORMATION
juliustaminiau.nl (opens in new tab)
WALLPAPER* ARCHITECTS' DIRECTORY 2019 (opens in new tab)
Harriet Thorpe is a writer, journalist and editor covering architecture, design and culture, with particular interest in sustainability, 20th-century architecture and community. After studying History of Art at the School of Oriental and African Studies (SOAS) and Journalism at City University in London, she developed her interest in architecture working at Wallpaper* magazine and today contributes to Wallpaper*, The World of Interiors and Icon magazine, amongst other titles. She is author of The Sustainable City (2022, Hoxton Mini Press), a book about sustainable architecture in London, and the Modern Cambridge Map (2023, Blue Crow Media), a map of 20th-century architecture in Cambridge, the city where she grew up.