The China List: Vivienne Westwood, Fashion
Wallpaper* and China's Cultural Heritage and Sustainable Development Fund (CHSDF) present China By Design—a celebration of Chinese cultural heritage and the many global creatives who have been inspired by it.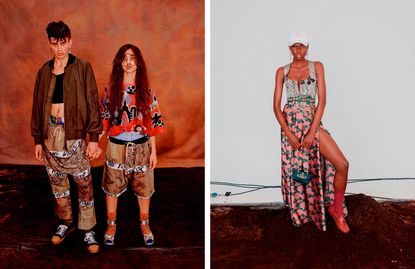 (Image credit: viviennewestwood.com)
Vivienne Westwood unites her environmentalist and anti-capitalist activism with the harmonious tenets of Chinese Taoism. 'We started with the five Taoist elements: Fire, Earth, Metal, Water and Wood,' she says of the inspiration behind her S/S 2019 men's and women's collection. It also references the British designer's passion for Chinese art, through the use of peony and dragon prints – 'representing the life force of the cosmos'. Among earthy-toned tailoring, gauzy fluid dresses and slouchy denim feature inky typographic and floral prints that evoke bamboo calligraphy. Long skirts shimmer with jacquard Oriental blooms. 'If we had culture instead of consumption we would not be in this environmental mess, because we would have a different ethos,' she adds, referring to the capitalism-subverting Taoist principle of wu wei, or 'inexertion'.
China also inspired Vivienne Westwood's Gold Label S/S 2012 collection, which featured a matching pencil skirt and plunging blouse adorned with calligraphic Chinese characters and inky blooms, paired with gold and red tassel earrings. 'I hope their [Chinese] traditional wisdom and experience from a culture going back to Confucius may help us to save the planet,' she explains. In 2011, Westwood partnered with the Ethical Fashion Initiative, encouraging marginalised women in Kenya into waged sewing work. 'When I was in Nairobi, I met Wang Xijia, who was working there with the United Nations,' she explained. 'He wrote my name and the words "Green economy" in his calligraphy and I incorporated this in a print taken from a Chinese flower painting.'
INFORMATION