The China List: Dries Van Noten, Fashion
Wallpaper* and China's Cultural Heritage and Sustainable Development Fund (CHSDF) present China By Design—a celebration of Chinese cultural heritage and the many global creatives who have been inspired by it.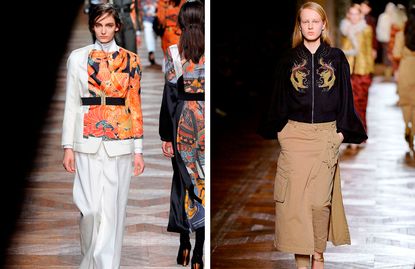 (Image credit: TBC)
'It was about taking pictures of Chinese court dress, and re-cutting them to use the shapes in a graphic way,' Dries Van Noten told the New York Times of the inspiration behind his eponymous label's A/W 2012 collection. Instead of simply drawing sketches based on historical garments, the Belgian designer took digital photographs of patterns on Chinese clothing housed in the permanent collection at London's V&A Museum, and spliced and patchworked them into contemporary patterns on suits, shirts and high-necked dresses. Optical mosaic prints and Oriental landscape scenes were imagined in fiery orange and turquoise, while phoenixes were embroidered in glittering golds on jackets and dragons swirled across the narrow pleats of skirts.
There's an elegant exoticism behind Van Noten's clothing, which reveals in luxurious and glittering fabrications and fur details. The designer's A/W 2015 collection, for example, also alluded to Chinese aesthetics using lustrous jacquard trenchoats and pencil skirts with Oriental blooms, bell-sleeve jackets with embroidered fire-breathing dragons and sequin sweatshirts with swirling cloud landscapes. But, as wrote T Magazine's editor Hanya Yanagihara in 2016, this is no pastiche: 'Van Noten's borrowings are less literal than they are gestural; a designer [such as Van Noten] makes his source material into something else, something his own.'
INFORMATION