Starck's SLS Hotel, Beverly Hills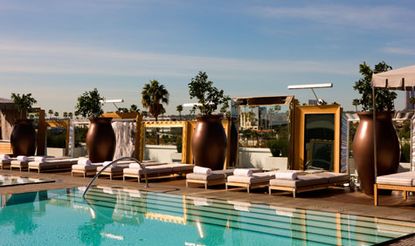 (Image credit: TBC)
Even in LA terms, the brand new SLS Hotel at Beverly Hills is a networking dream.
The brainchild of Sam Nazarian - owner of the flourishing SBE entertainment and nightlife company - it has had iconic designer Philippe Starck, 'the Ambassador of Spanish cuisine' Jose Andres and even design maestro and retailer Murray Moss all on board from the start.
See more of the SLS hotel (opens in new tab)
Perhaps it was the confidence of having such a high calibre of person on board but SBE certainly didn't hold back with the design of the interior. From the minute you enter the lobby (which leads straight on to the restaurant, private dining room, bar lounge and day dream patisserie counter) the scene is a maze of pink furry chairs, morphing monkey projection images, and glass vitrines. Choice pieces (all available from the Moss shop) like sporting macaroon pyramid candles, gold gun bedside lamps and chain metal oyster gloves are spread throughout the hotel.
The carnival of visual texture and layering leads all the way up to the rooms and suites with whimsical chairs made out of shiny red lips, a 'saints and sinners' mini-bar, and egg shell shaped plunge tub - or as Chief Creative Officer Theresa Fatino calls them, "Sweet little moments and delightful little nuggets.'
ADDRESS
465 LaCienega Blvd
Los Angeles 90048
VIEW GOOGLE MAPS (opens in new tab)