Palm Heights hotel is a Caribbean getaway with a game-changing new spa
Palm Heights hotel in Grand Cayman is the Caribbean destination that everyone is talking about. Here's why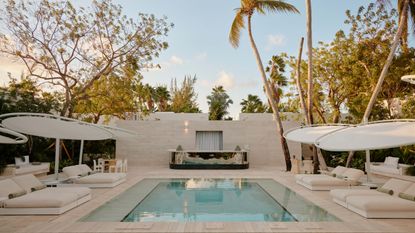 (Image credit: William Jess Laird )
Wallpaper* Newsletter
Receive our daily digest of inspiration, escapism and design stories from around the world direct to your inbox
Thank you for signing up to Wallpaper. You will receive a verification email shortly.
There was a problem. Please refresh the page and try again.
The Palm Heights hotel, a Caribbean destination that seems blessed by year-round sun, opened in Grand Cayman in 2019. It's the flourishing hospitality project founded by creative director Gabriella Khalil, who has created a sanctuary of beachy, glamorous 1970s Italian design blended with North African influences.
This month, the hotel officially opens its spa, The Garden Club, a years-in-the-making operation that blows out of the water any pre-existing notions of what a simple vacation massage may run to.
Palm Heights hotel spa: what to expect
Plants form the crux of the architecture: tropical hedges making up a labyrinth of verdant 'living walls' guide guests around the expansive 60,000 sq ft of sound rooms, saunas, pools, ice rooms, as well as movement-focused spaces (part of the also new Palm Heights Athletic Club) such as Pilates studios, training tracks, spin studios, gym areas and more.
Khalil's vision 'at its most basic level was to offer generous, connected wellness spaces that provided sanctuary, an environment for gathering and harnessed the lush island setting in an informed manner; drawing as much as possible from circumstance and the natural environment'.
To do this, she turned the well trodden spa model on its head, rejecting often solitary experiences and instead leaning into 'historical global wellness culture from Turkey, Korea, Italy to South Africa, which largely demonstrate two commonalities: wellness as a social practice and an emphasis on bathing and cleansing rituals in a social environment', says Khalil.
Six plunge pools, four outdoor ritual baths and a staggering yellow marble outdoor hammam place the emphasis on bathing, which was 'naturally very fitting due to the significance of water visually and culturally on the islands', says Khahlil.
Realising the dream
Khalil enlisted architect Dong Ping Wong of architecture practice Food New York to collaborate on the project and realise her aspirations, after being drawn to his approach to social and community spaces, such as his radical Plus Pool project: a public swimming pool that cleans East River water for bathing, and a research project for a health centre for a post-Covid city. 'A number of synergies started to emerge with conversations with Dong – across community, utilising the natural environment as part of the design process, sustainability, how space can be socially inviting – and informed references naturally developed from these conversations,' says Khalil.
'A lot of bathhouses are designed to be very exclusive to only a very select few –hidden away in basements, with multiple layers of check-ins to pass through – and we wanted this to feel the opposite,' Wong explains of the open-air ethos. 'At the same time, we wanted to create a diverse set of intimate areas. Spaces for everyone. Places you can discover and make your own and feel safe in.'
Leaning into the temperate climate, Wong envisioned an airy and free-flowing environment, its architecture defined largely by local vegetation – a maze of palms and tropical plants that would lead you from one area of the spa to the next. One of the many challenges this posed was planning for a building that 'you'd have to constantly garden and prune and water', he says. But they persevered, sourcing all the plants through local expert Whit Connors: 'He works with all the nurseries on the island and helped with everything from sourcing to craning trees into place, waterproofing, drainage details and caretaking,' says Wong. The travertine stone and distinctive yellow marble and black marble were sourced in Italy by Palm Heights' own architect, Giorgio Paolini, who hails from a small town on the east coast where the materials are abundant.
Costa Brazil: an enduring partnership
Since its opening, the hotel has partnered with Francisco Costa of beauty and lifestyle brand Costa Brazil to outfit the luxurious zellige-tiled bathrooms with toiletries. Now Costa has developed a menu of exclusive treatments for The Garden Club – the first location outside of Brazil to offer treatments and rituals by the brand – such as the Sol and Lua body treatments, which feature shimmering elixirs and involve breathwork, plus sound therapy as part of the latter. 'Breathwork is the best and most efficient way to feel balanced and to wake up, quite literally, the body, mind and soul,' says Costa. Nutrient-dense ingredients kaya and cacay, along with soothing breu resin (which Costa encountered in the Amazonian rainforest), are also used in the custom recipes.
Other beauty and wellness collaborators include Biologique Recherche, iS Clinical, beauty specialist Nikki DeRoest, and lymphatic massage expert Anna Zahn of Ricari Studios.
Receive our daily digest of inspiration, escapism and design stories from around the world direct to your inbox
Tilly is a British writer, editor and digital consultant based in New York, covering luxury fashion, jewellery, design, culture, art, travel, wellness and more. An alumna of Central Saint Martins, she is Contributing Editor for Wallpaper* and has interviewed a cross section of design legends including Sir David Adjaye, Samuel Ross, Pamela Shamshiri and Piet Oudolf for the magazine.