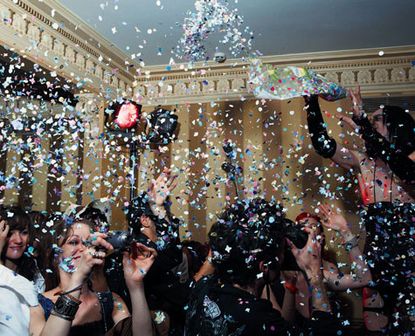 (Image credit: press)
Wallpaper* Newsletter
Receive our daily digest of inspiration, escapism and design stories from around the world direct to your inbox
Thank you for signing up to Wallpaper. You will receive a verification email shortly.
There was a problem. Please refresh the page and try again.
Le Royal Monceau has a past. Since its opening in 1928, this 8th arrondissement institution has entertained everyone from Mistinguett to Madonna via Winston Churchill and Jean Cocteau. It has a particularly Parisian past built on politics and passion in a city for so long the pre-eminent international creative hub. What it doesn't appear to have is much of a future. Paris today offers a definite creative stillness. So, it seems, do its grande dame hotels. But all is not as it seems. Philippe Starck has decided to come to the rescue of these old ladies. First he redesigned the public spaces of Le Meurice, and now he is helming the complete reinvention of the Royal Monceau, which was closed in June and is scheduled to reopen in autumn 2009.
When he bought the hotel, Alexandre Allard, an entrepreneur married to the granddaughter of one of the hotel's original owners, decided only Starck would do for the project. So he phoned him. Philippehe said, I want to redesign a Parisian hotel with you. Starck replied, "I'll call you later, I am in a meeting. Which hotel is it?" When Alexandre told him, he said, "OK, let me get out of this meeting."
What both men have in common is the passion to create a hotel for the new creative class, people who are rejecting traditional models of luxury and refinement. That's why Allard and Starck decided to destroy several of the Royal Monceau's old walls, enlisting their potential clients, intellectuals, artists and musicians to help them at this summer's exuberant Demolition Party, which marked the closure of the old hotel.
About 1,500 guests turned up and the queues were endless. Some people couldn't get in at all. Among the celebrities were actors Jude Law and Julie Depardieu, the rock singer Rachid Taha, rappers Kanye West and MC Solaar, and the fashion designer Jean-Charles de Castelbajac. Throughout this wild night, curated by Herve Mikaeloff, guests could explore art installations, dance to live bands and wreck the place, literally.
Guests were greeted by Passenger, a massive fluorescent-orange wooden installation by Belgian artist Arne Quinze, which extended from the entrance and up to the first floor, culminating in a bank of broken video screens. Pastry chef Pierre Herme served some of his delicious confections in total darkness, while the ballroom got busier and busier throughout the night, especially when 2 Many DJ's and then Gossip took to the stage.
On the first floor, 22 artists from around the world transformed a room each into an installation. Chinese artist Wang Du made a bathtub boat, which party-goers could board. Finland-based Iraqi artist Adel Abidin created a video showing the bombing and destruction of a room, while French artist Andre and British-based Olympia Scarry organised a party in a room, adorned with works by the artists. Photographers Jean Pigozzi and Jean-Baptiste Mondino exhibited portraits of celebrities such as Sharon Stone, Catherine Deneuve and Madonna, some of them having been taken at Le Royal Monceau. And Indian artist Sudarshan Shetty's installation Party Is Elsewhere comprised of a neon sign of the title above two tables of wine glasses, one of which was hit continually by a hammer, though the glasses never broke.
The second floor was reserved for guests to chill or do whatever they wanted; while the third was where the big DIY demolition took place. Here, guests were equipped with construction-site gear, a helmet and a hammer, and set to work on destroying some of the old walls. The grande dame might have seen everything in her time, but even she mustn't have witnessed such anarchy.
ADDRESS
Le Royal, Monceau, 37 avenue Hoche, Paris
Receive our daily digest of inspiration, escapism and design stories from around the world direct to your inbox
Melina Keays is the entertaining director of Wallpaper*. She has been part of the brand since the magazine's launch in 1996, and is responsible for entertaining content across the print and digital platforms, and for Wallpaper's creative agency Bespoke. A native Londoner, Melina takes inspiration from the whole spectrum of art and design – including film, literature, and fashion. Her work for the brand involves curating content, writing, and creative direction – conceiving luxury interior landscapes with a focus on food, drinks, and entertaining in all its forms