Hotel AKA NoMad by Lissoni New York heralds a new era of luxury stays
Hotel AKA NoMad designed by Lissoni New York prepares to bring a carefully considered design to new short-term-stay luxury suites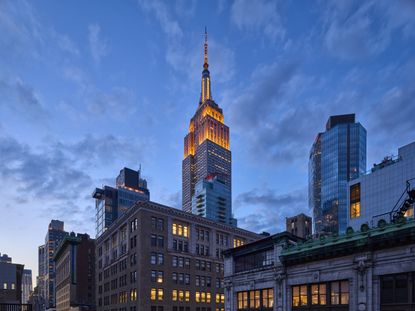 (Image credit: Jeffrey Totaro)
Travellers to the Big Apple these days want to lodge like New Yorkers, it seems. In fact, AKA Hotels has created a 'community around us', says Elon Kenchington, managing director of the just-opened AKA NoMad Hotel, where the brand has learned that business and leisure travellers alike are seeking home comforts, not so much the city that never sleeps but the city that goes to bed before midnight.
Hotel AKA NoMad by Lissoni New York
AKA NoMad is a first in many ways. For its key stakeholders: the AKA brand, it's the first short-term-stay luxury property (even hiring Kenchington away from the Marriott Luxury Collection, and the Gansevoort Group before that); and the interiors are from the hand of Piero Lissoni and Lissoni New York, comprising the firm's debut hotel project in the United States (though it has since worked with AKA on the now-open Old Town Alexandria project as well).
For this foray into a crowded space – the city itself and its hospitality market – Lissoni himself wanted to capture the 'music, life, silence, snow, traffic and energy' of the city and filter it through the prism of 'elegance and diversity'. The classic Liza Minnelli and Roberto De Niro film, New York, New York, whose title song should start playing in your head right about now, roused Lissoni's sensibilities when envisioning the project.
The collaboration between AKA and Lissoni New York was a 'perfect marriage' of expertise and integrity, says Kenchington, with the design firm crafting the custom scheme specific to this property. 'It wasn't AKA saying we need to follow these exact brand standards,' says Stephanie Rieger, the project co-lead along with Christine Napoli and Lissoni New York CEO Stefano Giussani. That freedom meant focusing on what AKA NoMad is all about: providing a New York home base for its guests.
'Everything that we've designed is meant to be an oasis from the city while also being very connected to the city itself,' says Reiger. 'It's not a space where you feel like you're in a hotel. It's a place you want to come home to,' she adds, noting that the Japandi-infused design scheme of neutral woods and weavings is met with subtle pops of rich tones of gold, blue and green.
Home in New York also means needing to block out the noise: the garbage trucks and the demands of the day still swirling in one's head. Sound-proofed windows are de rigueur here, with the building firmly planted on the corner of 31st and Madison Avenue, close to the Empire State Building, Macy's and Koreatown; but there's also a beautiful lobby bar tucked behind a shoji screen with 'the best cocktails in New York', says Kenchington with a wink. Such essentials to ensure comfort and quietude are inherent to AKA NoMad's ethos, Kechington explains: 'Yesterday's luxuries are today's standards. Everything is all here, but it's unobtrusive.'
Hotel AKA NoMad
131 Madison Ave
New York, NY 10016
stayaka.com/hotel-aka-nomad
lissoniandpartners.com
Receive our daily digest of inspiration, escapism and design stories from around the world direct to your inbox
Julie Baumgardner is an arts and culture writer, editor and journalist who's spent nearly 15 years covering all aspects of art, design, culture and travel. Julie's work has appeared in publications including Bloomberg, Cultured, Financial Times, New York magazine, The New York Times, Wall Street Journal, as well as Wallpaper*. She has also been interviewed for The Atlanta Journal-Constitution, Miami Herald, Observer, Vox, USA Today, as well as worked on publications with Rizzoli press and spoken at art fairs and conferences in the US, Middle East and Asia. Find her @juliewithab or juliebaumgardnerwriter.com