Down to detail: Autor Rooms introduces a collection of hotel essentials by Maria Jeglinska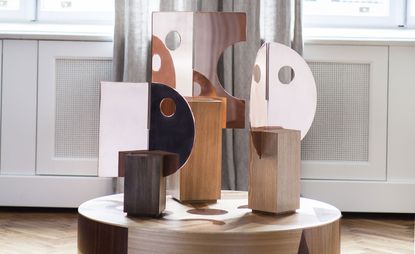 (Image credit: Max Zielinski and Przemek Nieciecki & Basia)
When it opened its doors in July last year, Autor Rooms in Warsaw immediately established itself as a bastion of local Polish design. Set up and managed by local creative and graphic agency Mamastudio, each of the boutique hotel's four-bedrooms are furnished with a mix of vintage and contemporary pieces all crafted by local designers and studios.
'The objective has been to create a space where guests feel as comfortable as visiting close friends,' explain the patriotic studio. 'Friends who not only provide a high standard of accommodation, but who also play host to an evolving city full of life, creativity and interesting people.'
Now, getting down to detail, Polish designer Maria Jeglinska has introduced a new collection of eight 'hotel essentials' designed exclusively for Autor Rooms. A set of three free-standing mirrors, a carafe and glass set, a tray, a doorknob, a shelf and a wall-mounted mirror complete the collection.
Boasting simple geometry and rounded edges, the tactile pieces are, as Jeglinska puts it, 'symbols of hospitality'.
'For each of these objects, I tried to imagine people's arrival at Autor Rooms and how they would relate to the space,' says the Warsaw-born designer. 'Guests and visitors interact with the space for a limited amount of time. Therefore, materials were chosen for their warmth.'
The form of the elegantly curved solid oak doorknob, that was designed to open the sliding bathroom door in each of the hotel's rooms, is echoed in the design of the shelf and the wall-mounted mirror's wooden bracket to create a consistent design language. Elsewhere Jeglinska evokes a feeling of familiarity through the concave bases of the carafe and glass set - a design detail that was inspired by the base of a wine bottle, while the group of three freestanding polished copper mirrors resemble friendly abstract faces that playfully wink at guests as they enter their rooms.
Just like the selection of artwork curated by Warsaw-based Starter Gallery that hangs on the hotel's walls, the new essentials collection will be for sale at the Autor Rooms. However, for those who aren't heading to the Polish capital any time soon, the pieces will soon be available to buy via the hotel's new online store, which is set to open in April. (www.autorrooms.pl/giftshop)
INFORMATION
ADDRESS
Lwowska 17/7